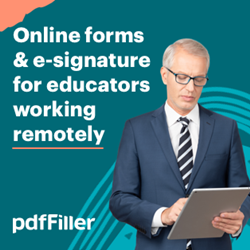 BOSTON (PRWEB) April 08, 2020
"In the last several weeks, educational institutions came to us asking for help to go digital in their document workflows communicating with students, parents and teachers. PDFfiller has always been a key partner to education, digitizing enrollment application forms, graduation paperwork and much more. Now more than ever, this is a critical part of the new world of remote learning. Given the immense pressure educational institutions are under adapting to remote learning, we thought it would only be right to do our part," said Borya Shakhnovich, CEO of airSlate - parent company of pdfFiller.
pdfFiller has helped thousands of educational institutions with:

Authoring, sharing and signing enrollment applications, exam forms, student satisfaction surveys, alumni membership forms and more
Digitizing registrar and administrative paperwork
Hosting fillable forms that can be embedded directly into university/school websites and online learning platforms
Sending parent consent forms for signature and sharing class schedules
Capturing data and managing student-teacher interactions
"Educators are already stretched with having to ensure that the off-campus educational process is running smoothly. pdfFiller is here to support and guarantee the continuity of all educational processes," affirmed Borya Shakhnovich.
If you currently work for a US-based educational institution, fill out a short form HERE and our Support agents will set up a pdfFiller account for you.
About pdfFiller:
pdfFiller has been providing its 20 million users with an all-in-one online PDF editor, e-signature and form builder since 2008. pdfFiller's web-based solution is seamlessly integrated with Salesforce, Microsoft Dynamics 365, Google Suite and more. The pdfFiller mobile app is available on iOS and Android.