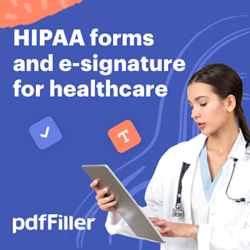 BOSTON (PRWEB) April 07, 2020
Over 40,000 healthcare professionals are already using the HIPAA compliant pdfFiller platform to aid in their paperless document transactions. "Hospitals, clinics and pharmacies are finding pdfFiller to be an irreplaceable solution due to its ease of use on phones and tablets for handling a variety of forms and documents including patient intake forms, release forms and patient history forms. Larger clinics also use pdfFiller to host fillable forms directly on their sites to speed up processes like remote registration as well as scheduling appointments and requests", explains Borya Shakhonovich, CEO of airSlate — parent company of pdfFiller.
"Simply saying "thank you" to all the healthcare workers who are risking their lives on the frontline these days is not enough. We would like to offer practical help. That's why we're providing 3 free months of our Premium subscription to all medical and other healthcare-related organizations to automate their document workflows: increasing social distancing while servicing more patients and building safe working environments for healthcare administrative staff."
PDFfiller assists with:

Authoring and automating patient forms
Adding fillable and e-signature fields
Supplying online fillable forms and an e-signature tool that is HIPAA compliant
Mobile accessibility for phones and tablets
A simple interface that requires no training and is used by millions
Secure record-keeping for all data
"We can't save lives but we can do our small part in containing the pandemic by offering what we are best known for — a convenient form-filler, easy e-signing and secure online storage for sensitive data." — Borya Shakhnovich, CEO of airSlate — parent company of pdfFiller.
If you're working in healthcare, fill out this short form and our Support agents will set up a free pdfFiller Premium account for you.
About pdfFiller:
pdfFiller has been providing its 20 million users with an all-in-one online PDF editor, e-signature and form builder since 2008. pdfFiller's web-based solution is seamlessly integrated with Salesforce, Microsoft Dynamics 365, Google Suite and more. The pdfFiller mobile app is available on iOS and Android.