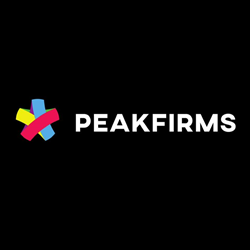 LYON, France (PRWEB) December 04, 2020
PeakFirms, a leading ranking platform for the digital industry, today announced the launch of an article that presents marketing automation statistics that everyone should know. Marketing automation refers to technologies and software platforms designed solely for the marketing departments of various businesses to aid and enhance marketing on various online channels by employing repetition of tasks.
PeakFirms presents some of the most fascinating facts about marketing automation:

As of 2019, research had it that an average of 51% of companies uses marketing automation.
Research also says that chatbots will take over 95% of customer service processes by 2021. The use of chatbots saves about 30% of the costs incurred by customer requests.
An excellent number of B2B businesses now use marketing automation. Furthermore, 63% of business owners want to increase their automation budget.
An increase in ROI and conversions were noticed by at least 77% of business owners
75% of marketers who use at least one marketing automation tool say that it is of utmost importance for the success of online businesses.
According to 64% of marketers, email automation is the most popular form of market automation. 21% of email marketing revenue goes to automated email campaigns.
A lot of companies who use marketing automation are confident that they can keep up with the latest trends in their businesses.
Marketing Automation industry has been listed as one of the fastest-growing software industries in the globe.
According to SharpSpring's investor presentation, the marketing automation software industry which is worth $6.1 billion will double in 3 years.
82% of B2B and B2C companies employ the use of marketing automation software.
Statistics show that at least 56% of companies don't think their companies can keep up with the fast-paced nature of marketing technology.
More than 480,000 websites have been using marketing automation tools since 2016. More than half of these websites are using automation tech from popular providers.
63% of companies outsource part or all of their marketing automation strategy planning. There are many companies that lack the technical know-how of automation tools that outsource all the planning to professionals.
The recent article published by PeakFirms also presents the benefits of marketing automation:

The Rate of Return on investment of 75% of companies has shot up within a year of using marketing automation tools.
Marketing automation can save time. Researchers claim that chatbots have helped online businesses save up to 6 hours and more weekly through social media automation. 74% of marketers claim that time-saving is the biggest benefit brought by these tools.
80% of companies who have employed the use of marketing automation for lead generation have hit their aim. Also, 77% of these companies claim that marketing automation hasn't only brought them leads but conversions too.
Researchers say that marketing automation can improve productivity by 20%.
80% of marketers that employ marketing automation say that these tools are the reasons for their success.
58% of marketers claim increased upselling. Upselling is a strategy used on customers' purchase history to get them to buy additional products alongside what they intended to buy.
For B2B marketers the generation of more leads, higher conversion rates, and better quality leads are the most important benefits of marketing automation.
PeakFirms is the top-ranking platform for the digital industry. Here, users can review and find top companies they can trust. Companies and simple users can check a list of the best advertising & marketing firms they can hire to boost their sales and skyrocket their business. Since a great product is nothing without a great design, at PeakFims users can find a list of the best design firms. The best web & software development firms can help companies to create the perfect software or the best websites. The best It service, cloud consultants, big data experts, and more are also listed on this platform.
With PeakFirms, companies can find the software they need. From affiliate software to customer management, call tracking, marketing analytics, network monitoring, and more, visitors have plenty of options from where to choose from.
Companies listed by PeakFirms can enjoy multiple benefits. Their sponsorship program offers the companies the possibility to skyrocket their visibility on the platform. Listed companies can collect reviews from the customers and increase their ranking on PeakFirms. With their in-app messaging system, listed companies can answer questions that leads and visitors may have about their services.