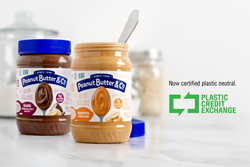 The burden of dealing with packaging waste cannot fall on consumers and governments alone – brands need to step up and take responsibility for their part. We hope this will inspire others in the grocery industry to join us as we strive to make our planet a cleaner place. -Lee Zalben
NEW YORK (PRWEB) May 06, 2021
Peanut Butter & Co., the family-owned peanut butter brand available at more than 15,000 stores nationwide, today announces a commitment to the environment by achieving Plastic Neutral Brand Certification in partnership with Plastic Credit Exchange, the first national peanut butter brand to accomplish this monumental feat. Peanut Butter & Co. has already offset its plastic footprint by neutralizing more than 220 metric tons of plastic used in 2020 and has committed to offsetting its plastic consumption in the coming years continuously.
As a Plastic Neutral Brand, Peanut Butter & Co. tracks and reports all plastic used in their product lines – not only jars and lids, but also the plastic used to wrap each case of peanut butter, as well as the wrapping for each pallet those cases are stacked on for shipment to distributors and retailers. The grocery industry is a significant contributor to worldwide plastic waste, and only a small percentage of that plastic winds up in recycling centers.
"As a food company, we are responsible for the impact our products have on our planet," said Peanut Butter & Co. Founder & CEO Lee Zalben. "Working with Plastic Credit Exchange allows us to take direct responsibility for the environmental impact of our packaging and actually do something to help take plastic out of the environment. The burden of dealing with packaging waste cannot fall on consumers and governments alone – brands need to step up and take responsibility for their part. We hope this will inspire others in the grocery industry to join us as we strive to make our planet a cleaner place."
The decision to partner with Plastic Credit Exchange is a direct result of many conversations and a shared passion for eliminating plastic from our oceans. Joining major corporations like Colgate-Palmolive Philippines, Wyeth Nutrition Philippines, and PepsiCo Philippines, Peanut Butter & Co. is one of only a handful of privately-owned brands that have joined forces with the nonprofit to achieve plastic neutrality.
"We are thrilled to be partnering with a company that prides itself in tasting good, feeling good, and doing good for the community," said Nanette Medved-Po, founder and chairperson at the Plastic Credit Exchange. "We welcome Peanut Butter & Co. to a movement of forward-looking businesses addressing their ambitious sustainability commitments through plastic neutrality."
Consumers have always looked to Peanut Butter & Co. for delicious products, and now they can have the added confidence of knowing that their favorite brand is taking meaningful action to reduce their plastic footprint, as well.
About Peanut Butter & Co.
Peanut Butter & Co. is made by peanut butter lovers, for peanut butter lovers. Founded in 1998, Peanut Butter & Co. began as a sandwich shop in New York City and has since expanded to add delicious and unique varieties of peanut butter, peanut powder, and other nut butters to its lineup, available at more than 15,000 retailers nationwide. The Company sources peanuts exclusively from U.S. farmers and also grows peanuts at the Peanut Butter & Co. Farm in Northeast Arkansas. Led by founder Lee Zalben, Peanut Butter & Co. is committed to social responsibility, and in 2021 became the first national peanut butter brand to earn plastic neutral certification.
For more information about Peanut Butter & Co., please visit ilovepeanutbutter.com, or follow on Facebook @PeanutButterCo, Twitter @PeanutButterCo, and Instagram @PeanutButterCo.