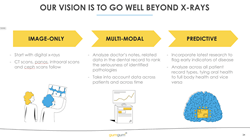 "Ophir and the Pearl team are transforming the dental industry," said Craft Co-Founder and General Partner David Sacks.
SANTA MONICA, Calif. (PRWEB) May 13, 2019
Pearl (http://www.hellopearl.com), a new company pioneering artificial intelligence for the dental industry, has closed $11M in Series A funding led by top tech VC firm Craft Ventures and strategic dental industry partners. Major names in the dental category will be participating in the round. The company also announced a cutting-edge product set, ushering in a new era of AI-powered dentistry. Pearl's founder, AI veteran Ophir Tanz, is leading as CEO.
"Ophir and the Pearl team are transforming the dental industry," said Craft Co-Founder and General Partner David Sacks. "We believe that the future of dentistry and oral healthcare will be enabled by computer vision, and we're excited to see how Pearl's first set of products advance X-ray practice and margin marking."
Pearl is deploying the latest innovations in computer vision and deep learning technology to bring greater efficiency, accuracy, and intelligence to core segments of the dental industry. Those segments include clinical practices, labs, device manufacturers and insurance companies. The caliber of VC and dental industry leaders supporting Pearl attests to the value of the company's initial offerings.
Pearl is launching with three market-ready products. Second Opinion reads dental x-rays and instantly identifies pathologies and natural anatomy to help ensure error-free diagnosis and automate charting. Practice Intelligence delivers advanced analytics that allow dental practices and groups to maximize patient care and operational efficiency. And Smart Margin provides real-time feedback on the quality of intraoral scans and automates the laborious process of hand-marking the scans for labs and manufacturers use in the dental restoration creation process.
"Pearl will have an immediate positive impact on the dental category," said Tanz, "It will streamline tedious, repetitive tasks, enhance profitability across dentistry, and, most importantly, it will improve the standard of care by validating diagnoses, removing large elements of uncertainty from the dental equation."
Tanz, a serial entrepreneur with a B.S. and M.S. from Carnegie Mellon University, spearheaded the development of dental AI technologies at GumGum, an applied computer vision media company, he founded in 2008. Last month, Tanz spun out GumGum's dental division and stepped down as GumGum CEO in order to focus exclusively on the new dental company.
The world-class Pearl team includes CTO Cambron Carter, who leads a corps of computer vision specialists, and Chief Clinical Officer Dr. Kyle Stanley, a renowned implant surgeon, professor, and thought leader.
In addition to its funding partnerships, Pearl has also partnered with several leaders in the dental industry -- including DSO groups and universities -- for solution testing and deployment.
Pearl plans to use its new funding to expand its current dental product set and pursue applications of its proprietary technologies to link oral health to overall health.
"Healthcare is rapidly becoming a focal point of the AI revolution and AI's impact–on patient care and, ultimately, humanity–is both exciting and profound," concluded Tanz. "We're in the thick of it and that feels good."
For more information or to request a demonstration, please visit http://www.hellopearl.com.