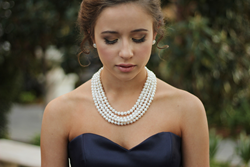 "We offer the best pearls at half the cost so you won't break the bank. We think customer first."
MANHATTAN, N.Y. (PRWEB) September 05, 2019
It is often during challenging times when businesses get the most creative to survive. Such is the case for Pearlnirvana. This exclusive pearl jewelry retailer, and online website, is using innovative ways to stimulate business to survive this tough economic climate. Using new social networking tools available on the internet has enabled Pearlnirvana to reach out to its ever expanding customer base.
Pearlnirvana is proud to announce the launch of their all new online presence at http://www.pearlnirvana.com This gives online shoppers the best value on an array of merchandise, and every purchase is backed with free shipping and a superior customer experience.
Company Profile
Pearlnirvana is an online department based in the USA. Designed for a superior shopping experience, Pearlnirvana offers one-stop shopping for a broad range of pearls including exclusive tahitian pearls, exclusive akoya pearls, baroque necklaces, freshwater pearl bracelets, and all pearl jewelry are shipped using free shipping – including one of these best collection of rare retro golden pearls for sale online in USA. The store's ability to offer high value on a wide variety of products is at the core of their success. Pearlnirvana.com was established with convenience, value, and customer experience in mind. The site provides an easy-to-navigate online department store, except you are not hassled by salesmen and can shop from the comfort of your home or office.
About Aaron Elzy
Pearlnirvana is the brainchild of Aaron Elzy, founder and CEO. An up-and-coming entrepreneur, Aaron began his career in sales, where he first realized his passion for south sea pearls and exclusive baroque pearls. He launched Pearlnirvana in December 2011 and has since grown the company into a massive online pearl jewelry retailer. Aaron realized early that in order to differentiate their company, they had to be innovative.
"I always think of ways to be different from my competition because if I don't then I'm just another face in the crowd," says CEO, Aaron Elzy.
This philosophy led to the creation of their new Free Shipping shopping experience. The company is passionate about pearls, continually strives to carry the best selection available anywhere and lives up to their motto: "We only offer the best."
Visit webpage at http://www.pearlnirvana.com.
Follow on Facebook @facebook.
Email info@pearlnirvana.com