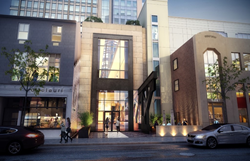 No developer has been more committed to strengthening the restaurant and retail fabric of Philadelphia than Pearl Properties and we couldn't be happier to partner with them again on another high-quality offering for our shared community. - Steve Cook, co-owner of CookNSolo
PHILADELPHIA (PRWEB) November 05, 2018
On the heels of celebrating its recent topping off milestone at The Harper—Rittenhouse Square's newest luxury, mixed-use development—Pearl Properties, the Center City based real estate investment and development firm, announced today that CookNSolo Restaurant Partners has signed-on to open the prominent restaurant space at the property's residential entrance on 19th Street. CookNSolo is a powerhouse hospitality group in Philadelphia, co-founded by James Beard Award winning restaurateurs, Steve Cook and Michael Solomonov.
"Mike and I are so excited to bring our restaurant, open all day, to Rittenhouse Square," said Steve Cook, co-owner of CookNSolo. "No developer has been more committed to strengthening the restaurant and retail fabric of Philadelphia than Pearl Properties and we couldn't be happier to partner with them again on another high-quality offering for our shared community."
A new mixed-use project under construction, The Harper will consist of a 24-story, best in class luxury apartment tower, also featuring premier retail space, creative office, dog park, outdoor pool and deck, state-of-the-art fitness center, indoor basketball court, yoga studio, 10,000 sq. ft. elevated green roof/park with furniture, hammocks and grills, along with an underground garage. The development is named after James Harper, Rittenhouse Square's first builder and a United States Congressman in the 1830s.
"At Pearl, we are always looking to bring the best that Philadelphia has to offer to our residents and the neighborhoods where they live and play," said Reed Slogoff, principal of Pearl Properties. "Steve and Mike have built a successful partnership and both have stellar reputations for creating amazing food experiences. We are thrilled to see their vision for The Harper's restaurant come to life over the coming weeks and months."
For more information on this property or to inquire about leasing, go to http://www.pearl-apartments.com. For more information on CookNSolo, visit http://www.cooknsolo.com.
About Pearl Properties
Pearl Properties, LLC (Pearl) is a full service real estate company engaged in the development, acquisition and management of mixed use properties throughout the Philadelphia Metropolitan area. With expertise in development, construction, acquisitions, property leasing, physical property management and asset management, Pearl has assembled a portfolio of mixed-use assets in irreplaceable locations. To learn more, visit http://www.pearl-properties.com.
About CookNSolo Restaurants
Co-owned by James Beard Award-winning restaurateurs, Chef Michael Solomonov and Steven Cook, the distinctive CookNSolo restaurants are: pioneering Israeli restaurant Zahav (237 St. James Place, 215-625-8800), recipient of the rare Four Bells: Superior rating from Inquirer critic Craig LaBan; Abe Fisher (1623 Sansom Street, 215-867-0088), serving contemporary twists on Old-World Jewish cooking; Federal Donuts, the fried chicken-and-donut shop with seven locations in Philadelphia (1219 S. Second Street; 1632 Sansom Street; 3428 Sansom Street; 701 N. Seventh Street; 540 South Street; 2101 Pennsylvania Ave at Whole Foods Market Center City) and a seasonal concession at Citizens Bank Park; Dizengoff, an authentic, Israeli-style hummusiya with two locations (1625 Sansom Street; 2101 Pennsylvania Ave at Whole Foods Market Center City); The Rooster (1526 Sansom Street, 215-454-6939), a diner-style Jewish deli that donates 100% of its profits to its non-profit partner, Broad Street Hospitality Collaborative, which provides essential services to Philadelphia's most vulnerable citizens; and Goldie, a vegan falafel shop serving fried fresh-to-order falafel, fries and tehina milkshakes with three locations in Philadelphia (1526 Sansom Street; 2101 Pennsylvania Ave at Whole Foods Market Center City; 3401 Walnut Street at Franklin's Table Food Hall).