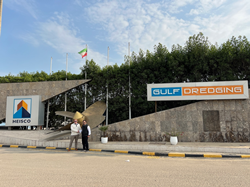 MIAMI (PRWEB) January 17, 2023
Pearlson Shiplift Corporation (PSC) and Heavy Engineering Industries and Shipbuilding Company (HEISCO) are pleased to announce the latest contract signing, valued in excess of $14 million U.S. Dollars (with options), for the Design, Upgrade and Modernization of the Shiplift and Transfer System at Kuwait Naval Base (KNB), located in Al-Julaia'a, Kuwait.
This upgrade and modernization project will see the combined teams of Pearlson, HEISCO, and Gulf Dredging Company (GD) work together in support of the U.S. Army Corps of Engineers (USACE) and the Kuwait Naval Forces (KNF).
The Shiplift System at KNB measures 102 meters long x 18 meters wide, and was originally installed by Pearlson Engineering Company in the late 1970s. The Shiplift was upgraded under a U.S. Army Corps of Engineers contract in 2015/2016 by PSC and will now be upgraded again by the joint teams of PSC / HEISCO / GD, including the Rail Transfer System, to a new a modern transfer system meeting current codes / standards.
Work is expected to last approximately 2 years, with final re-commissioning of the Shiplift and Transfer System in 2025.
The contract signing was celebrated at HEISCO's shipyard in Shuwaikh Port, Kuwait between Mr. James Fleming (Director - Shipyard Development) for Pearlson and Mr. Salem Marafie (Deputy - Chief Executive Officer) for HEISCO.
About Pearlson Shiplift Corporation:
Pearlson Shiplift Corporation is the world-leader in shiplift technology, and the only company in the World which is solely dedicated to the design and build of shiplift systems. These innovative systems enable the safe lifting of vessels during construction, maintenance and repair. Their capacity ranges from 500 to 30,000 tons, and they can be used in newbuilding and ship repair of all types of vessels, from simple freighters and tug boats to advanced nuclear submarines. There is no better system to safely lift and launch vessels, than a Pearlson Shiplift System.
About HEISCO:
Established in 1974, Heavy Engineering Industries & Shipbuilding Co. K.S.C. (Public), HEISCO, is a major Engineering, Procurement and Construction (EPC) Contracting company based in Kuwait with a diversified range of business in Oil and Gas, Petrochemicals, Power, Pressure Equipment Manufacturing, Shipbuilding & Repair, Dredging & Marine Construction, Civil Construction, Maintenance and other industrial services including Heavy Industry projects.