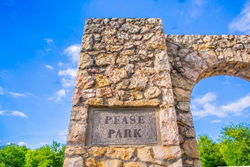 AUSTIN, Texas (PRWEB) September 04, 2019
Today, Pease Park Conservancy is pleased to announce that Ty Haney, Founder, and CEO of Austin-based activewear brand Outdoor Voices, will be the keynote speaker for the Conservancy's 11th annual fall fundraiser "Past, Present, Pease." The event will take place on Thursday, November 7th at the Austin Central Library, and will celebrate a year of exciting developments for the Conservancy and for Pease Park, including the upcoming groundbreaking of the 10-acre Kingsbury Commons project, and the initial implementation of the award-winning Pease Park Master Plan.
"One of the things that I love most about Austin is how much room there is to play and be active, Pease Park being one of the most essential places where that comes to life," said Haney, Founder, and CEO of Outdoor Voices. "As the Resource for Recreation, it's our responsibility to partner with people, causes, and organizations that help us provide access to our community. I am so excited to be the keynote speaker for Past, Present, Pease and be involved with an organization whose mission to support Austin's natural elements for future generations so closely aligns with Outdoor Voices' mission to Get the World Moving."
At the event, hundreds of Pease Park supporters, civic leaders, influencers, neighbors and friends will come together at Austin's Central Library to celebrate another year of success and support of Austin's first and oldest public park. Guests will enjoy cocktails, great food, live music and much more, including an exclusive update on the latest news about the Kingsbury Commons project.
This year's event follows many exciting developments for the Conservancy and Pease Park that have happened over the past year, including:

The hiring of Pease Park Conservancy's Director of Projects and Programming, Chuck Smith, who is developing new programs and community-based initiatives to continue to draw people into and enjoy Pease Park
Efforts to develop an interpretive master plan to highlight key cultural and natural histories within Pease Park, as well as recommendations for sharing those stories with the greater public
Collaboration with the City of Austin and the Watershed Protection Department to identify and implement efforts for addressing the Shoal Creek landslide within Pease Park
Ongoing efforts to revitalize and enhance Kingsbury Commons, which is slated to break ground later this year.
"This has been a banner year for Pease Park and for the Conservancy," said Heath Riddles, CEO of Pease Park Conservancy. "We are thrilled to have the participation and support of Ty Haney and Outdoor Voices at this year's fall fundraiser. Their mission of infusing play and movement into everyday life perfectly aligns with our vision for the future of Pease Park – as a place where everyone can play, run, explore, discover and feel at home."
For more information about Pease Park, and the Conservancy's efforts visit http://www.peasepark.org. For event-specific information, and to purchase tickets: https://pastpresentpease.org/
###
About Pease Park and Pease Park Conservancy
Pease Park Conservancy was formed in 2008 and works to restore, enhance and maintain Pease Park, Austin's oldest public park and an iconic green space. Unfolding across 84 acres, Pease Park is a series of connected greenspaces running along Lamar Boulevard from West 15th to West 31st Streets, providing residents and visitors alike with an intimate, yet sprawling, natural amenity. Owned by the City of Austin, Pease Park is a public district park maintained, operated and programmed by Pease Park Conservancy, in partnership with the Austin Parks and Recreation Department.
About Ty Haney, Founder and CEO of Outdoor Voices
As the Founder and CEO of Outdoor Voices, Ty Haney is on a mission to Get the World Moving. A graduate of Parsons School of Design in New York City, Haney grew up in Boulder, Colo., where spending time outdoors and doing all kinds of activities is a natural part of life. Haney believes that Doing Things — freeing fitness from performance and focusing on moving your body and having fun with friends — is the surest, most important, way to a happy and healthy life. Outdoor Voices is building The Resource for Recreation through a global community of Recreationalists that bring Doing Things to life daily and versatile product that makes you feel strong and makes it easy to participate. Outdoor Voices believes in bringing play back into everyday life and continues to grow as the next great activewear brand with retail locations across the country. Haney has been named one of Fast Company's Most Creative People in Business, Forbes' 30 Under 30, VOGUE's Vanguards Young Entrepreneurs, and WWD's 40 of Tomorrow.