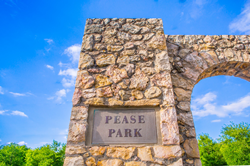 AUSTIN, Texas (PRWEB) October 16, 2019
Pease Park Conservancy was thrilled to host the ceremonial groundbreaking of Kingsbury Commons Wednesday, October 16th from 9 a.m. - 11 a.m. in the heart of Pease Park. This exciting event included short speeches from Texas State Senator Kirk Watson; City of Austin Mayor Steve Adler; CEO of Pease Park Conservancy, Heath Riddles, and the Director of the City of Austin Parks and Recreation Department (PARD), Kimberly McNeeley.
The groundbreaking ceremony kicked off the construction phase of Kingsbury Commons to revitalize the lower 10 acres of Pease Park. Ten Eyck Landscape Architects (TELA) and its team of experts thoughtfully designed the space to dramatically enhance park visitors' experience, sustain the park's ecology, and increase park usership and capacity. Some project features include the adaptive repurposing of the Tudor Cottage as a community gathering space with new terraced seating, a unique nature play area, a state-of-the-art water play feature, an innovative treescape, and improved sport courts and play equipment. All modifications will be woven into the woodland in a manner that will protect the canopy and allow the park to retain its familiar storybook atmosphere.
"We are creating a world-class public green space, befitting of Austin's central city park, and we could not be more excited that the day is finally here," said CEO of Pease Park Conservancy, Heath Riddles. "We have assembled an incredible group of industry leaders on this project, and the latest ideas around outdoor design and nature play will be brought to life in this space. Pease Park truly is the 'people's park,' and we are eager to welcome the Austin community into this exciting and dynamic cultural landscape."
Along with the Conservancy and TELA's joint effort, the two teams are partnering with the City of Austin Parks and Recreation Department to protect and conserve the natural landscape of this historic park.
"Pease Park is a beautiful and treasured asset for the City of Austin. The Parks and Recreation Department (PARD) is proud to partner with Pease Park Conservancy and support their efforts to ensure that generations of Austinites can continue to use and enjoy this historic place," said PARD Director, Kimberly McNeeley.
During the groundbreaking of this exciting project, the Conservancy also announced the launch of a major capital campaign, with a goal of raising $15 million for the construction and ongoing operations and maintenance of Kingsbury Commons.
Appreciation and thanks go out to the Moody Foundation for its lead gift of $9.7 million given in 2017, which will be funding the construction portion of Kingsbury Commons. In addition to the instrumental grant from the Moody Foundation, Pease Park Conservancy received additional support from two $1 million donors — Lynne Dobson and Greg Wooldridge, and Dale and Libby Linebarger — who were announced and recognized at the groundbreaking.
In total, the Conservancy has raised more than $13 million toward its $15 million goal. The Austin community is invited to help Pease Park Conservancy cross the finish line in this important campaign.
"We are proud to provide the lead gift in this important campaign. Austin has become a world class city, and we believe our green spaces should keep pace with that incredible growth and vitality," said Ross Moody, Moody Foundation trustee. "Pease Park is, in many ways, Austin's Central Park, and it is important that this focal point of our park system reflect the iconic nature of Austin itself."
Pease Park Conservancy is working with the City of Austin on a partnership agreement for the operation and maintenance of Kingsbury Commons. The completion of the Kingsbury Commons is estimated to be in the Spring of 2021.
For more information about Pease Park and the Conservancy's efforts, visit http://www.peasepark.org.
###
About Pease Park and Pease Park Conservancy
Pease Park Conservancy celebrates the diverse ecology and history that make Austin's first public park valuable and unique. The Conservancy works to restore, enhance and maintain this 84-acre public green space for the sustainable use and enjoyment of all. Pease Park is a series of connected greenspaces running along Lamar Boulevard from West 15th to West 31st Streets, providing residents and visitors alike with an intimate, yet sprawling, natural amenity. Owned by the City of Austin, Pease Park is a public district park programmed by Pease Park Conservancy, in partnership with the Austin Parks and Recreation Department.
About Ten Eyck Landscape Architects, Inc.
Since 1997, Ten Eyck Landscape Architects, Inc. (TELA) has connected the urban dweller with nature and each other through civic, institutional, commercial, residential, and mixed-use urban infill landscape architecture projects. Recognizing the complexities of this endeavor, their collaborative sixteen-person team works closely with architects, engineers, ecologists, communities and clients to generate historically sensitive and socially, financially, structurally, and environmentally sustainable environments. TELA's designs prioritize native plant communities, water harvesting technologies, and regional durable materials artfully expressed through form, color, and texture. From site planning through construction, TELA draws from extensive experience and intimate knowledge of the place to transform ordinary outdoor urban spaces into authentic, vibrant landscapes that stimulate the senses and unify communities.
About The Moody Foundation
The Moody Foundation was established in 1942 by William L. Moody Jr. and his wife Libbie Rice Shearn Moody. Since its inception, the Foundation has donated more than $1.4 billion in grants across the state in support of its mission "to build a bigger, better Texas." These grants have ranged from capital support for Moody Gardens in Galveston, to endowment and programmatic support for the Moody College of Communication at the University of Texas at Austin. Additional grant recipients include the Barton Creek Conservancy, Aids Services of Austin (ASA) and the Waterloo Greenway, formerly known as Waller Creek Conservancy, where the Foundation donated a grant to revamp Waterloo Park and the addition of the Moody Amphitheater. The Moody Foundation is governed by a board of three Trustees – Frances Moody Dahlberg, Ross Moody and Elizabeth Moody. Learn more at https://moodyf.org
Links:
https://peasepark.org/
https://facebook.com/peasepark
https://teneyckla.com/