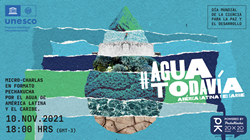 "We are very pleased to further promote the dialogue and exchange of ideas about freshwater, at a time when its critical role for our lives, the ecosystems and our societies and economies is more evident than ever."
CHICAGO AND MONTEVIDEO, Uruguay (PRWEB) November 04, 2021
PechaKucha, a social storytelling platform used by millions of people around the world, and the UNESCO Intergovernmental Hydrological Programme in Latin America and the Caribbean (IHP-LAC), are joining forces to present a live online global event focused on water security, accessibility and sanitation. The event will be broadcast on Wednesday, November 10 at 18:00 Uruguay Time / 15:00 Central Standard Time.
"Agua Todavía – UNESCO x PechaKucha" is a live virtual event that aims to address awareness of water sources and the "Value of Water," which also is the motto of World Water Day 2021. Facing a sanitary emergency in the context of COVID-19, Agua Todavía will use PechaKucha's 20 slides x 20 seconds storytelling platform to highlight IHP-VIII on Water Security as well as Sustainable Development Goal 6 (SDG6) on Clean Water and Sanitation. It is one of the Sustainable Development Goals set by the United Nations General Assembly in 2015.
"We are very pleased to further promote the dialogue and exchange of ideas about freshwater, at a time when its critical role for our lives, the ecosystems and our societies and economies is more evident than ever," said Miguel Doria, UNESCO IHP-LAC Regional Hydrologist. "We encourage everyone to participate and to make a difference."
Some of the key goals for the "Agua Todavía" include the strengthening of international dialogue and cooperation to improve knowledge and innovation to address water security challenges, as well as the strengthening between science and decision making to reach water security at local, national, regional, and global levels.
Speakers will present on various water topics using PechaKucha's highly visual, time-based presentation format that limits talks to 400 seconds (6 minutes, 40 seconds). Topics include water routes, drought, climate change, the Guarani aquifer, the Amazon, the Andes, water quality, ecohydrology, water quality, ancient knowledge and more.
Key event details:
Date: November 10th, 2021
Time: 18:00 UYT / 15:00 CST
Advanced event registration is required to attend the live Zoom webinar
The event also will be broadcast via PechaKucha's YouTube channel and streamed on PechaKucha's event page.
The event is free and will be presented in Spanish
"PechaKucha is humbled to partner with UNESCO for 'Agua Todavía,'" said Mark Dytham, PechaKucha Founder and Chief Community Officer. "Our storytelling platform simplifies complex topics and motivates people to share, engage, and act. We are proud to join the effort to raise awareness about the critical need to protect and safeguard water."
About PechaKucha
PechaKucha, based in Chicago and Tokyo, is the fast-growing storytelling platform used by millions of people across the globe. Content creators, schools, businesses, and government agencies worldwide license PechaKucha's "20 images x 20 seconds" platform to share visual stories, information and concepts for inspired action. PechaKucha community organizers host live events in more than 1,250 cities in 140 countries, with thousands of individual creators using PechaKucha's social storytelling platform for digital talks, sessions and chats. To gain inspiration from 50,000+ PechaKucha stories or to share your own, visit https://www.pechakucha.com.
About UNESCO IHP-LAC
The Intergovernmental Hydrological Programme (IHP) is a cooperative scientific programme under which UNESCO supports research, education and capacity development for water resource management. From UNESCO Regional Bureau for Science in Latin America and the Caribbean in Montevideo, IHP-LAC runs regional and local initiatives by engaging with the involved countries through National Committees and Focal Points, within the framework of the programme objectives and using its implementation mechanisms.