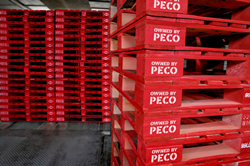 Importantly, these tools help us understand much more precisely how a new customer impacts our network, and how we can plan and optimize to incorporate and operate that customer's business most efficiently - Marc Downs, senior director, PECO Pallet
ITASKA, Ill. (PRWEB) February 08, 2023
PECO Pallet Inc. (PECO), one of North America's largest providers of rental pallet services, has entered into an agreement with Optilogic, which provides supply chain design and modeling solutions that combine powerful optimization, simulation, and risk rating capabilities to model the most resilient supply chain designs.
PECO is leveraging Optilogic to model and optimize scenarios across its entire network, which encompasses some 90 operating depots, serves over 2,000 customers and maintains a rolling inventory of some 23 million of its signature red, nine-block high-quality wooden rental pallets.
"We are using Optilogic to help us better understand and manage the nodes and flows in our network, and how best to plan, operate and deploy our pallet inventory in the most optimal, responsive and cost-effective manner for our customers," said Eric Sobanski, PhD, Senior Vice President of Operations at PECO.
"A large, nationwide rental pallet network such as PECO has many of the same characteristics and challenges as any complex supply chain involved in sourcing, storing, and delivering physical goods," said Sobanski. "Continually measuring and optimizing such networks, how and where goods flow, making sure inventory is in the right place at the right time, and identifying what risks can derail expected performance, is critical for managing cost and delivering for customers," he noted.
Employing a strong set of modeling and analytical tools that provide fast and accurate results is necessary to effectively perform regular re-evaluation and scenario modeling of the network, identifying the impact–and risks–of many influencing factors, explained Marc Downs, Senior Director of Network Design and Supply Chain Planning at PECO.
Such factors include shifts in customer mix, inventory repositioning, shortages, changes in pallet demand, or other unanticipated market disruptions.
"Importantly, these tools help us understand much more precisely how a new customer impacts our network, and how we can plan and optimize to incorporate and operate that customer's business most efficiently," Downs said. Previously, PECO's operations analytics team used other software to run a single model at a time, in a very heavy manual-data-entry process, Downs noted.
With Optilogic, the team can batch run multiple model scenarios, with results in minutes instead of hours.
"We're more agile, we're learning faster and more accurately how certain changes can impact our network, and what that means for sales and customer service," Downs said. "It's taken out a significant amount of time, which we can now devote to more value-added activities, better network planning and faster resolution of customer issues."
Beyond cost reduction, customer service improvements, and model agility, "we have better visibility into ESG metrics within our transportation operations," Downs added.
"By plugging in all the dispatches, routes, volumes and delivery sites, we can optimize truck capacity, reduce empty miles, and with fewer trucks on the road, reduce our carbon footprint, which supports our ESG goals."
This year, using Optilogic, Downs estimates that PECO will be able to reduce truck miles by an additional five to seven percent.
"PECO and their supply chain team has been an amazing partner to work with. Their ongoing goal to drive additional speed, agility, and resiliency into their supply chain while simultaneously improving their carbon impact has helped us battle test the innovations that we've built into our cloud-native supply chain design platform," said Oscar Torres, Senior Vice President of Revenue Operations for Optilogic.
"Working with PECO's team of veteran supply chain practitioners allowed us to extend and validate these capabilities that are applicable to virtually any enterprise with a supply chain. PECO leaned in early during our collaborations and was a catalyst in driving our roadmap and our platform-wide hyper-scaling capability. We're excited to continue working with the PECO team to find the next big opportunity for supply chain improvements."
About PECO Pallet, Inc. – Itasca, IL-based PECO Pallet is one of North America's largest providers of rental pooled pallet services and provides tens of millions of its red block pallets to major grocery and consumer goods manufacturers in the U.S., Canada, and Mexico. PECO Pallet's tremendous growth over the last 25+ years reflects the company's commitment to quality and service. Customers using PECO's superior pallets experience less product damage, greater efficiency, improved safety, and significant cost savings. For more information about PECO Pallet, please visit http://www.pecopallet.com and follow us on LinkedIn
About Optilogic – Ann Arbor, Michigan-based Optilogic offers cloud-native supply chain design solutions that enable businesses to evaluate trade-offs across financial performance, service levels, and systemic risk to design resilient supply chains even in the most dynamic, challenging environments. Its Cosmic Frog supply chain design solution tackles enterprise data at scale, runs models faster than ever, automatically converts legacy models, and requires no IT footprint. Cosmic Frog is the only supply chain design platform to combine optimization, simulation, and risk engines, and include a risk rating on every model. Solutions include network design, intelligent greenfield analysis and site selection, M&A analysis, near-shoring/reshoring, CAPEX planning, cost-to-serve, product flow-path, and many more. Stay in touch with Optilogic on LinkedIn, Twitter, Facebook, and YouTube and visit http://www.Optilogic.com