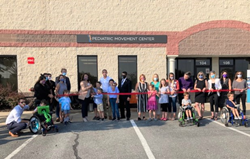 "We are thrilled that PMC expanded and chose Frederick for their second location." - Jodie Bollinger, Director, Business Retention and Expansion for the Frederick County Office of Economic Development
FREDERICK, Md. (PRWEB) September 14, 2020
Pediatric Movement Center (PMC) held their grand opening celebration today with local pediatricians and physicians, state officials, economic development partners and vendors. Parents of children who have utilized PMC services spoke at the event and highlighted how PMC is family centered and very passionate about providing the best care to the children and families.
Based in Washington County, this is PMC's 2nd location and it's first in Frederick. Located at 4640 Wedgewood Blvd, Suite 104 Frederick, MD 21702, PMC provides individualized patient centered practices for children with or without special needs who are under the age of 21. Their staff are highly trained and qualified clinicians and provide a safe and reassuring environment. They provide occupational, physical and speech therapy services at this facility making it convenient for their patients.
"We are thrilled that PMC expanded and chose Frederick for their second location. We commend them for services they provide and the passion they have for their patients. We are very proud to have PMC located in our community." stated Jodie Bollinger, Director, Business Retention and Expansion for the Frederick County Office of Economic Development.
PMC also offers classes of all ages and abilities to build strength, balance and endurance through their Kidmotion program. Classes include parent-child classes, gymnastics, tumbling, dance, sport skill, movement based classes, adaptive and social/behavioral classes. They also hold special events throughout the year including pre-school programs, field trips, open play and tot time, birthday parties, kids night out and more. For more information on Pediatric Movement Center, visit http://pmchag.com/.
For More Information:
The Frederick County Office of Economic Development (OED) is the catalyst for economic growth in Frederick County, with the mission to increase the overall economic health of Frederick County through attracting new businesses in our targeted industries and helping existing businesses be more successful. Please contact OED @ info@discoverfrederickmd.com for more information.