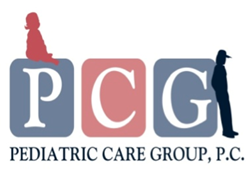 Thank you to everyone who voted for Pediatric Care Group. The outpouring of support from our patients and the community was particularly touching.
Jenkintown, PA (PRWEB) April 03, 2014
Firstrust Bank has selected Pediatric Care Group, P.C. as a runner up winner in their coveted Philly's Business First Award celebrating local businesses that make a difference in their community. Firstrust Bank awarded a $5,000 prize to Supporting the Mind Foundation on behalf of Pediatric Care Group. The check was awarded by Firstrust president Tim Abell at a special ceremony hosted by Firstrust Bank in their Bala Cynwyd office on February 26, 2014.
Marylee Mundell, D.O., F.A.A.P. co-founder and co-owner of Pediatric Care Group was excited about being able to contribute to children with special needs in the Jenkintown area. "Supporting the Mind Foundation is a charity setup to help children and families with special needs. It will use these funds to help parents pay for costly psycho-educational and psychological assessments/testing as well as to subsidize important treatment options," said Doctor Mundell. Pediatric Care Group has long specialized in helping children with Autism Spectrum Disorder (ASD) and other disabilities. "I want to thank Tim Abell, Richard Green and everyone at Firstrust Bank for creating this award. I also want to acknowledge the many patients and supporters who voted for PCG and allowed us to donate these funds to help the many children in our community with special needs."
ABOUT DR. MARYLEE MUNDELL, D.O., F.A.A.P.
Dr. Mundell went to Rider University and the University of Medicine and Dentistry of NJ School of Osteopathic Medicine. She completed her pediatric residency at St. Christopher's Hospital for Children. After residency, she worked for the government through the National Health Corps in Chester, PA. She developed an adolescent medicine clinic and a family planning clinic for adolescents. She learned about medicine, caring for children and how best to develop programs and support the needs of the community. She moved to Temple University as an Associate Professor and started a practice for Temple University Children's Hospital. She learned about continuity of care and the art of being a child's doctor and advocate.
Dr. Mundell is passionate about taking care of children with special needs. "I feel these kids have been "lost" where medicine is concerned. My sister required a lot of services that did not exist at the time after a serious childhood car accident. She had to learn how to walk and talk again. This involved bringing together physical, occupational and speech therapists along with educational services. Today, my sister is an accomplished attorney and works with children in an intermediate unit. I also have a first cousin who has Downs Syndrome and Autism. Seeing her exist in a world that didn't understand or support her was tough," said Dr. Mundell. "I've become an advocate for children with these disorders and work with school systems to ensure they are given all the resources for which they are entitled. It's been my life's work to bring together critical resources for children and their families and to assist with early intervention so that every child can reach their full potential. While PCG has always catered to special needs children, it is nice to see pediatrics as a whole finally paying attention to these special children with new diagnoses, treatments and services."
ABOUT PEDIATRIC CARE GROUP, P.C.
Pediatric Care Group of Jenkintown, PA, was founded in 2003 and is owned by Dr. Marylee Mundell, D.O., F.A.A.P. and Dr. Marie Carrier Kinsley, M.D., F.A.A.P. PCG serves about 6,000 pediatric patients and is an exceptional pediatric practice where children come first. Pediatric Care Group was created to deliver continuity of care and a medical home for children. Each doctor gets to know his or her children because every patient is assigned a physician as their primary care provider. In addition to well child checkups, same day sick appointments and vaccinations including influenza vaccines, PCG provides critical medical care for special needs children, including Autism Spectrum Disorder (ASD), ADD, ADHD and more.
Pediatric Care Group (PCG) provides exceptional pediatric medical care to children from birth to 21 out of their office in The Pavilion in Jenkintown, PA. PCG delivers expert pediatric care to children from nearly every zip code throughout the Delaware Valley, although they focus on Montgomery, Bucks and Philadelphia counties and the following municipalities: Jenkintown, Abington, Elkins Park, Rydal, Horsham, Hatboro, Willow Grove, Huntingdon Valley, Glenside, Northeast Philadelphia, Northwest Philadelphia, Fox Chase, Cheltenham, North Philadelphia, Roxborough and Manayunk.
###
Media Contact:
Jeff Cohen
Pediatric Care Group, P.C.
261 Old York Road, Suite 620
Jenkintown, PA 19046
215-885-8700
jeff [at] pcgkids [dot] com
http://www.pcgkids.com