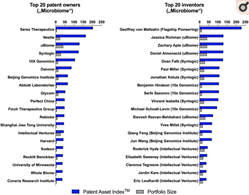 "uBiome looks forward to utilizing our patent assets along with our expansive microbiome dataset to continue making useful products and advancing microbiome diagnostics and therapeutics." - Dr. Jessica Richman, co-founder and CEO of uBiome
SAN FRANCISCO (PRWEB) March 18, 2019
uBiome, the leader in microbial genomics, has the largest patent portfolio in the microbiome industry and the third highest quality portfolio following Seres Health and Nestle, as published in Frontiers in Bioengineering and Biotechnology by authors Manuel Fankhauser, Christian Moser, and Theodor Myfleler. uBiome executives Dr. Jessica Richman, PhD, co-founder and CEO, Dr. Zachary Apte, PhD, co-founder and CEO, and Dr. Daniel Almonacid, PhD, Senior Vice President of Science and Innovation, are the three most prolific patent inventors in the microbiome space.
The study, authored by Dr. Manuel Fankhauser, PhD, Chief Science Officer of Seerave Foundation, Dr. Christian Moser, PhD, Patent Expert at the Swiss Federal Institute of Intellectual Property, and Theodor Nyfeler, Deputy Head of the Patent Department at the Swiss Federal Institute of Intellectual Property, analyzed key patent owners and innovators in the microbiome space in regards to cumulative value and portfolio size. Richman, Apte, and Almonacid hold the first, second, and third spots as top microbiome inventors in terms of portfolio size and they hold the second, third, and fourth spots in terms of patent quality. This study provides a case study of how in-depth patent analyses can identify early indicators of technology and investment trends from large patent databases.
uBiome's patents cover the method and analysis of their microbiome test kits, as well as the diagnostics and therapeutics of conditions ranging from cardiovascular disease, endocrine conditions, autoimmune disorders, neurological disorders, and more. The patents protect uBiome's sequencing-based microbiome tests as well as the technical platforms needed to analyze and disseminate them.
The number of academic publications and active patent families in the microbiome space have grown exponentially since 2007, from only a few hundred publications and less than 50 patents to 36,271 publications and 1,129 patents in 2017. The anticipated launch of new drugs as a result of these patents will likely contribute to the overall growth of the global therapeutics market. The global human microbiome diagnostic market is forecasted to grow at a Compound Annual Growth Rate (CAGR) of 9.8 percent to nearly $1.9 billion between 2018 and 2026. Additionally, companies that target the microbiome for the development of therapies have raised $840 million since 2010, according to a report by Silicon Valley Bank.
"uBiome looks forward to utilizing our patent assets along with our expansive microbiome dataset to continue making useful products and advancing microbiome diagnostics and therapeutics," said Dr. Jessica Richman, co-founder and CEO of uBiome, "We look forward to partnering with others in the industry to license our inventions and to develop future innovations."
For more information about uBiome's science and patents, visit http://www.ubiome.com/science/#patents.
_____
About uBiome
Founded in 2012, uBiome is the leader in microbial genomics. The Company's mission is to advance the science of the microbiome and make it useful to people. uBiome combines its patented proprietary precision sequencing™ with machine learning and artificial intelligence to develop wellness products, clinical tests, and therapeutic targets. uBiome has filed for over 250 patents on its technology, which includes sample preparation, computational analysis, molecular techniques, as well as diagnostic and therapeutic applications.
uBiome's commercial products include SmartGut™, the world's first sequencing-based clinical microbiome test, which identifies microbes in the gut for patients with chronic gut conditions such as IBD, IBS, Crohn's Disease, and ulcerative colitis; SmartJane™, the first sequencing-based women's health screening test, which genotypes all 19 clinically relevant strains of HPV, identifies four common STDs, and surveys more than 20 vaginal microbes associated with bacterial vaginosis and other conditions; and Explorer™, a health and wellness product to understand the role that food and lifestyle can play in wellness.
uBiome's platform has been used by hundreds of thousands of consumers, patients, and doctors and more than 200 research institutions around the world, including the US Centers for Disease Control (CDC), US National Institutes of Health (NIH), Harvard University, Stanford University, the Massachusetts Institute of Technology (MIT), University of California, San Francisco, Oxford University, and the University of Sydney.
Since its launch, the company has received widespread recognition including CNN 10: Startups to Watch, the IVY Technology Award, CNN Future 30, and was named one of Fast Company's Most Innovative Companies in Healthcare in 2016 and in Data Science in 2018, as well as a Technology Pioneer from the World Economic Forum in 2018. For more information, visit http://www.uBiome.com.