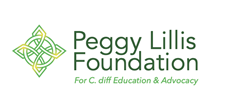 We are incredibly grateful for Ferring's generous sponsorship as well as its ongoing partnership in the fight against CDI.
BROOKLYN, N.Y. (PRWEB) March 11, 2021
Peggy Lillis Foundation for C. diff Education & Advocacy (PLF), the leading patient organization combating C. difficile infections (CDI), partners with Ferring Pharmaceuticals through a new sponsorship to help fund new and existing patient advocacy initiatives. Joining forces, PLF and Ferring are eager to continue helping people living with CDI and their loved ones.
The sponsorship is aimed toward supporting the organization's National C. diff Advocacy Summit, 2021 FIGHT C. DIFF Gala, and this year's "See C. diff" campaign, which commemorates C. difficile Infection Awareness Month in November.
"We are incredibly grateful for Ferring's generous sponsorship as well as its ongoing partnership in the fight against CDI," said Executive Director Christian John Lillis. "We founded PLF ten years ago to fight the infection that took our mother Peggy from us. Ferring's sponsorship marks a new stage in our growth and evolution and has enabled us to grow our mother's legacy into the leading patient advocacy organization for this disease."
"Our Board of Directors is deeply appreciative of Ferring's commitment to combating CDI," said PLF President Jeff Pollack. "Like the Lillis family, it was the death of my father that brought me to this mission. Ferring's contribution, the largest single gift PLF has received, means we can grow and broaden the movement to end harm caused by CDI."
The funds will also be used to build a Peer Support Network for patients, caregivers and others affected by CDI where they can connect, be heard and receive support they may not otherwise obtain through their healthcare providers. Support will be offered by members of PLF's Advocates Council, comprised of CDI survivors and family members. In addition to emotional support, the Network will provide timely, scientifically sound information to help guide patients in finding a care provider or enrolling in a clinical trial. Other resources offered will include tips on managing symptoms, dealing with stigma and anxiety around CDI, and practical advice such as sharing proper cleaning techniques to minimize the risk of spreading CDI in a household.
"In 2012, I battled C. diff infection for seven months and then in 2015 my two-year old daughter was diagnosed. I was baffled by the lack of progress in new treatments and general support for patients fighting this disease," said Christina Fuhrman, co-chair of PLF's Advocates Council. "I am so pleased that Ferring is not only developing a potential microbiome-based recurrent C. diff infection treatment, but is also investing in an organization that helps tens of thousands of CDI patients every year."
"We are thrilled to continue our partnership with the Peggy Lillis Foundation, an advocacy group that has done so much for the CDI community," said Dr. Edward Trott, Chief Patient Officer, Ferring Pharmaceuticals. "At Ferring, we are focused on breaking the cycle of recurrent CDI and bringing hope to the patients and families who are impacted by this illness."
PLF's 2021 National C. diff Advocacy Summit will be held virtually on April 20 and 22.
About Peggy Lillis Foundation for C. diff Education & Advocacy
Founded in response to the April 2010 death of 56-year-old kindergarten teacher, Peggy Lillis Foundation for C. diff Education & Advocacy (PLF) is the leading national organization dedicated to combating C. difficile infections through educating the public, empowering advocates and shaping policy. For more information visit http://www.peggyfoundation.org.
About Ferring Pharmaceuticals
Ferring Pharmaceuticals is a research-driven, specialty biopharmaceutical group committed to helping people around the world build families and live better lives. In the United States, Ferring is a leader in reproductive medicine and maternal health, and in specialty areas within gastroenterology and orthopaedics.
Ferring is committed to exploring the crucial link between the gut microbiome and human health, beginning with the threat of recurrent Clostridioides difficile infections. With the 2018 acquisition of Rebiotix and several other alliances, Ferring is the world leader in microbiome research, developing novel microbiome-based therapeutics to address significant unmet needs.
For more information, call 1-888-FERRING + (1-888-337-7464); visit http://www.ferringusa.com/