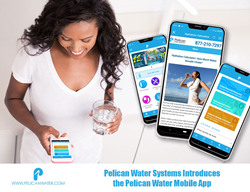 DELAND, Fla. (PRWEB) July 02, 2019
Pelican Water Systems, now a part of Pentair, continues to connect families with high-quality filtered water with the release of the Pelican Water Mobile app for iOS and Android.
The Pelican Water Mobile app is the realization of a mission — to create a cohesive user experience that combines customer service, mobile ordering, product maintenance, and practical water quality tools in one convenient location. Pelican Water Mobile is a complete tool to help customers monitor and improve home water quality while also connecting customers to discounts and deals.
When users set their location they will receive customized water quality alert notifications, including boil water alerts and notices of high contaminant levels which are issued by local municipalities. When using the Pelican Water Mobile app, users are the first to know about new product launches and unique promotional offers based on their region, water quality, and past purchases. Healthy lifestyle tips empower owners of Pelican products to constantly improve their water quality and efficiency in their home.
With the Pelican Water Mobile app, owners of Pelican systems can use NFC (Near Frequency Communication) technology to scan their systems using their mobile devices in order to quickly access DIY videos, FAQS, manuals, and product specifications for routine maintenance and troubleshooting. The app also enables users to order filter replacements and maintain system performance. Pelican Water provides a tailored experience by connecting users with live chat options to troubleshoot and order new products in real time.
The Pelican Water Mobile app also provides users with a variety of mobile payment options. Mobile payment options on the Pelican Water Mobile app include Google Pay, Apple Pay, and PayPal. Pelican Water Mobile is completely free to download — Pelican customers can get the app today on the Google Play Store and on the iOS App Store.
About Pelican Water Systems
PelicanWater.com is the official, factory-direct retail website for Pelican Water Systems, providing professional knowledge and leading technologies in whole house water filtration, countertop water filtration systems, UV bacteria disinfection systems, and salt-free water conditioning systems. Pelican Water's mission is to help families enjoy cleaner, safer, better tasting water in their homes in an environmentally friendly way. Pelican Water is also proud to offer under-counter reverse osmosis systems that are small enough for practical use in RVs and marine vessels. Acquired by Pentair in February 2019, Pelican Water continues to be a global market leader in salt-free water treatment technology. For more information about Pelican Water Systems, visit PelicanWater.com.
About Pentair
At Pentair, we believe the health of our world depends on reliable access to clean water. We deliver a comprehensive range of smart, sustainable water solutions to homes, business and industry around the world. Our industry leading and proven portfolio of solutions enables our customers to access clean, safe water. Whether it's improving, moving or enjoying water, we help manage the world's most precious resource. Smart, Sustainable Water Solutions. For Life.
Pentair had revenue in 2018 of $3 billion, and trades under the ticker symbol PNR. With approximately 110 locations in 30 countries and 10,000 employees, we believe that the future of water depends on us. To learn more, visit Pentair.com.