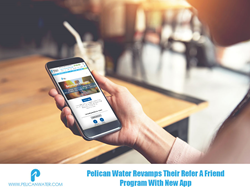 DELAND, Fla. (PRWEB) September 10, 2018
Pelican Water Systems has launched a brand new mobile app where customers can refer friends and family to top products from the market leader in affordable, environmentally friendly water filtration and salt-free softening systems. The app enables satisfied users to become advocates for Pelican Water and to earn rewards every time they submit a qualified referral.
The Advocator App grew out of Pelican Water's desire to empower consumers to connect their friends and family to products they love, and to reward loyal customers with discounts, savings, and rewards on their favorite home filtration and softening products. By streamlining the referral process and helping users get the word out about their favorite systems the app makes it easier than ever to share deals with contacts without manually texting, emailing, or calling.
In order to download the app customers need only to register or login to their Pelican Water account. Once registration is complete users will receive an SMS text with a link to download the app. After signing in to the app they can submit referral information on the go. Customers can also download the app on the Google Play Store and on the iOS App Store. In just a few clicks users become brand advocates with the power to save big.
By referring friends, family, and other members of their community, loyal Pelican Water customers earn rewards and discounts on popular products such as the Whole House Water Filtration System. Every qualified referral earns app users $5 towards their in-home products, while a purchase from a referral earns app users $50 each time a purchase is made. Advocates are alerted whenever they receive rewards or earn a bonus.
By creating a user-friendly mobile app Pelican Water demonstrates its commitment to its customers, quality water filtration, and excellent customer service. The Advocator app makes it even simpler to connect the people you love with market-leading softeners and water filtration systems.
About Pelican Water Systems
PelicanWater.com is the official, factory-direct retail website for Pelican Water Systems, providing professional knowledge and leading technologies in whole house water filtration, countertop water filtration systems, UV bacteria disinfection systems, and salt-free water softening and conditioning systems. Pelican Water products use cutting-edge technology to enable customers to go green by eliminating wasteful and harmful salt brine discharge that is polluting our valuable fresh water resources. Pelican Water is also proud to offer under-counter reverse osmosis systems that are small enough for practical use in RVs and marine vessels. Pelican Water continues to be the global market leader in salt-free water softening systems. For more information about Pelican Water Systems, visit PelicanWater.com.