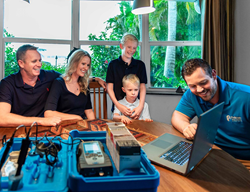 DALLAS (PRWEB) September 30, 2019
Pelican Water Systems, now a part of Pentair, is expanding its in-home services to Dallas, Texas, and the nearby areas of Arlington, Irving, Mesquite, Garland, and Plano. Consumers can now schedule a consultation from a certified water expert with a simple phone call to Pelican Water. Pelican Water in-home water consultants arrive in a mobile retail center that includes everything necessary to test and treat all types of home drinking water — a water test station, a mini showroom, and a variety of Pelican Water products to remedy water quality problems.
The Dallas metropolitan area obtains its drinking water from a variety of sources, most of which are surface water reservoirs including Lake Ray Hubbard, Lake Grapevine, Lake Lewisville, and Lake Tawakoni. Pelican Water experts match each home's needs to a no-salt customized water filtration system, many of which generate zero wastewater. With the right system, homeowners can look forward to great-tasting, higher-quality water.
Dallas homeowners and families with water quality concerns can now call and schedule a free in-home consultation. All Pelican Water in-home consultations are backed by a 90-day labor guarantee, and all installations are performed with white-glove service. For a full list of locations where in-home services are offered, visit the Pelican Water in-home services page.
About Pelican Water Systems
Pelican Water Systems provides professional knowledge and leading technologies in whole house water filtration, countertop water filtration systems, UV bacteria disinfection systems, and salt-free water conditioning systems. Pelican Water's mission is to help families enjoy cleaner, safer, better-tasting water in their homes in an environmentally friendly way. Pelican Water is proud to offer under-counter reverse osmosis systems that are small enough for practical use in RVs and marine vessels. Acquired by Pentair in February 2019, Pelican Water continues to be the global market leader in salt-free water treatment technology. For more information about Pelican Water Systems' in-home services in Dallas, visit pelicandfw.com.
About Pentair
At Pentair, we believe the health of our world depends on reliable access to clean water. We deliver a comprehensive range of smart, sustainable water solutions to homes, business and industries around the world. Our industry-leading and proven portfolio of solutions enables our customers to access clean, safe water. Whether it's improving, moving or enjoying water, we help manage the world's most precious resource. Smart, Sustainable Water Solutions. For Life.
Pentair had revenue in 2018 of $3 billion, and trades under the ticker symbol PNR. With approximately 110 locations in 30 countries and 10,000 employees, we believe that the future of water depends on us. To learn more, visit pentair.com.