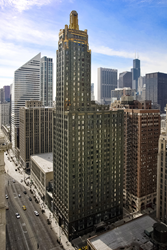 ORANGE COUNTY, Calif. (PRWEB) October 22, 2020
Pendry Hotels & Resorts today announced its further U.S. expansion with Pendry Chicago. The renovation and refurbishment of the Art Deco Chicago landmark, the Carbide & Carbon Building, is currently underway and will bring Pendry Hotels & Resorts' refined sense of modern-day luxury hospitality to Chicago beginning spring 2021.
Pendry Chicago will be located in Chicago's Loop neighborhood, amid a dynamic collection of cultural attractions, robust offices and corporate headquarters, and distinct restaurants and shops. Its central location and proximity to other famed Chicago neighborhoods makes it the perfect launching pad to explore the City. The City's vibrancy surrounds the hotel with some of Chicago's best shopping, dining, cultural sights and parks. Within easy walking distance, guests can explore the Chicago River Walk, The Art Institute of Chicago, Willis Tower, The Magnificent Mile, Wrigley Field, Soldier Field and so much more.
Featuring 364 redesigned guestrooms and suites, Pendry Chicago will be both a restoration and reinvigoration of a Chicago architectural marvel. The rooms will feature a contemporary palette awash in warm minimal tones and comfortable finishes. The public spaces will be thoughtfully designed by Alessandro Munge's, Studio Munge, with careful attention to the detail of the historic features of the building. The hotel's signature restaurant and bar concept, also designed by Studio Munge, will be overseen by hospitality and nightlife pioneer, Andy Masi, and his Clique Hospitality group. In addition, the hotel will feature a lobby bar and lounge, a spectacular rooftop lounge, 12,000 square feet of meetings and event space, curated fitness and wellness programming, and an extensive art collection.
"We are incredibly proud to bring Pendry to the great city of Chicago," said Alan J. Fuerstman, founder, chairman and CEO, Montage International. "We plan to honor the history imbued in the Carbide & Carbon Building by elevating and accenting its iconic design, injecting the exceptional service and guest experience for which Pendry Hotels & Resorts are known, and celebrating the remarkable city through food, spirits, art and creativity."
Pendry Chicago will be a creative rebirth of the Burnham Brother's iconic, bold and playful Art Deco building that has cemented itself as a Chicago landmark. The historic Carbide & Carbon Building dates back to 1929 and is famed for its unique Champagne bottle design and extravagant details featuring dark granite at the base, deep green Terracotta on the tower, and 24-karat gold leaf at the top. Pendry Chicago will bring a new era of modern-day luxury, making it an ideal destination for business travel; a weekend getaway; a cultural escape to the city; an elegant and elevated private wedding or event; or simply an unparalleled opportunity to revel in one of America's most vibrant cities, accompanied by the utmost in service and hospitality.
For more information, please visit http://www.pendry.com or follow @pendryhotels and @pendrychicago.
Click here for a photo of Pendry Chicago.
About Pendry Hotels & Resorts
Pendry Hotels & Resorts is a new luxury hospitality brand from Montage International. Pendry combines inspired design with a celebration of culture and authentic service tailored to today's cultured world traveler. Founders Alan J. Fuerstman and Michael Fuerstman's well-seasoned experience in the hospitality industry serves as the foundation for the brand. Each property is injected with a unique perspective on contemporary style, and an emphasis on the arts and local community in the city it calls home. The portfolio of hotels includes Pendry San Diego and Sagamore Pendry Baltimore. Opening in 2020 is Pendry West Hollywood; opening in 2021 is Pendry Manhattan West, Pendry Park City, and Pendry Chicago; opening in 2022 is Pendry La Quinta, Pendry Natirar, and Pendry Washington D.C. – The Wharf. Pendry Hotels & Resorts is a member of Preferred Hotels & Resorts. For more information on Pendry Hotels & Resorts, follow @pendryhotels or visit http://www.pendry.com.