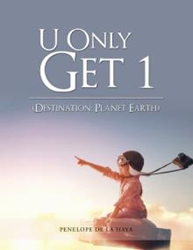 NORTH RICHLAND HILLS, Texas (PRWEB) April 12, 2019
Penelope de la Haya once had a serious illness and personal death experience in which, according to her, she was given specific instructions by Jesus to "tell His people that heaven is real." From that time, the entire course of her life changed. It has become her passion and mission to carry back the message she received and spread the word that heaven is indeed real. It inspired her to write "U Only Get 1: Destination: Planet Earth Book 1" (published by AuthorHouse), the first book in a trilogy of fictional novels where a spirit travels through time in an adventure called life. The second book in the trilogy is "The Land of Death and Dying," and the third book is "The Land of the Living."
The book focuses on Emery, a spirit that is being prepared by Archangel Michael to put on a special suit (skin) in preparation for a journey on planet Earth. It describes in metaphorical language the excitement of her trip from heaven and her arrival on Earth as a new baby to her destination family. This description is couched in an environment of positive anticipation, happiness and safety.
"This book addresses the often-difficult subject of birth and where we come from in easily understandable, positive and non-threatening language and style that can be used by parents with young children to discuss the subject," de la Haya says.
"U Only Get 1: Destination: Planet Earth Book 1" hopes to provide readers a better understanding that life is a spiritual as well as a physical journey to be embraced and enjoy without fear from its beginning until its end. For more details about the book, please visit https://www.amazon.com/Only-Get-Destination-Planet-Earth/dp/1949735214.
"U Only Get 1: Destination: Planet Earth Book 1"
By Penelope de la Haya
Hardcover | 8.5 x 11in | 24 pages | ISBN 9781546221814
Softcover | 8.5 x 11in | 24 pages | ISBN 9781546221807
E-Book | 24 pages | ISBN 9781546221791
Available at Amazon and Barnes & Noble
About the Author
Penelope de la Haya is a woman of varied background and experience. She was reared on a Texas ranch, graduated early from high school and became an interior decorator. She has always been passionate about travel, children and her faith. She has visited almost every state in the United States and traveled internationally. Certified as a lifeguard and aquatics director, she taught swimming to babies, handicapped children, adults and swim teams. She has sponsored many children in various countries through World Vision with direct gifts and micro loans in their communities. She independently opened the Penne Orphanage in India and was recognized by the Indian government. She is a certified life coach, the mother of two grown children and three grandchildren.