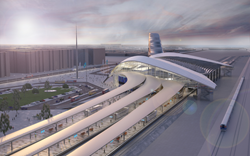 After the inauguration of the PENETRON production facility in Kazakhstan four years ago, this summer's Expo 2017 will be a further milestone for Kazakhstan and for PENETRON crystalline technology!
East Setauket, NY (PRWEB) May 31, 2017
From the main train station in downtown Astana to the Expo 2017 fairgrounds and all the way out to the Astana International Airport, PENETRON crystalline technology stands behind much of the new infrastructure built for Expo 2017, set to take place in Kazakhstan this summer (June 10-September 10).
 
Robert Revera, President and CEO of The PENETRON Group, has closely followed the progress. "Thanks to our PENETRON team in Kazakhstan, we've made a big contribution to the monumental construction effort in Astana. It's a testament to the effectiveness of PENETRON crystalline technology."
 
"After the inauguration of the PENETRON production facility in Kazakhstan four years ago, this summer's Expo 2017 will be a further milestone for Kazakhstan," adds Igor Chernogolov, Head of the PENETRON Kazakhstan team and President of PENETRON Russia. "And for PENETRON crystalline technology!"
 
PENETRON Kazakhstan worked closely with Basis, one of the largest domestic construction companies, to provide expertise and PENETRON's crystalline technology as a waterproofing solution for a number of Expo 2017 exhibits and structures. Basis constructed most of the largest exhibits at the Expo site, with over 100 countries participating.
SHOWCASE PROJECTS
Kazakhstan has unveiled many signature construction projects at a rapid pace over the past years. Below is an overview of the projects completed in time for Expo 2017 that feature PENETRON crystalline technology:

Independence Monument – Commemorating Kazakhstan's 25th anniversary of independence and the focal point of the Expo 2017 grounds, the foundation of the 70 m tall structure was treated with PENETRON ADMIX.
Central Railway Station – PENETRON materials were used to treat the concrete basement of the largest rail hub in the country. The complex was built over the rails and connects two city districts through a spacious hall with a glass roof.
National Choreography Academy – Adjacent to Expo 2017, this four-building theatre and ballet complex includes classrooms and dorms. PENETRON and PENECRETE MORTAR were applied to all below-ground structures.
Northern Lights - An office/residential complex with three towers (32, 34 and 42 floors) designed in distinctive wavy, curved forms with blue-green reflective glass. The joints in the concrete foundation were treated with PENECRETE MORTAR.
Triumphal Arch – PENETRON ADMIX was employed to ensure impermeability of the concrete basement structures of this 20 m high arch created in the traditional Kazakh architectural style.
Astana International Airport – The new terminal doubled the airport's passenger capacity (now up to 7 million people annually); PENETRON materials were used to waterproof the airport's runway aprons.
Expo 2017 Water Supply System – PENETRON, PENECRETE MORTAR and PENEPLUG were all used to waterproof the concrete of the new pump stations dedicated to the fairgrounds.
After conclusion of Expo 2017, the exhibition facilities will be converted to Astana's new International Financial Center.
 
"PENETRON is proud to add Expo 2017 to the growing list of remarkable global venues we've helped to create," adds Mr. Revera.
The PENETRON Group is a leading manufacturer of specialty construction products for concrete waterproofing, concrete repairs and floor preparation systems. The Group operates through a global network, offering support to the design and construction community through its regional offices, representatives and distribution channels.
For more information on PENETRON crystalline technology solutions, please visit www(dot)penetron(dot).com, email: CRDept(at)penetron(dot)com or contact our Corporate Relations Department at 631-941-9700.