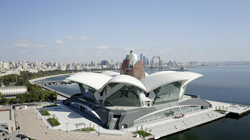 We've had excellent success in Baku with Penetron's crystalline technology.
EAST SETAUKET, N.Y. (PRWEB) July 09, 2020
Delayed by the Covid-19 pandemic, the June 1, 2020 opening of the Deniz Mall, a stunning shopping and entertainment center on the shores of the Caspian Sea, was cause for celebration in Baku, Azerbaijan. Penetron crystalline technology ensured waterproof protection to a structure threatened by a leaking membrane installation.
"This was a much-anticipated new retail, leisure and entertainment development for the city of Baku," says Kirman Mammadov, Managing Director of Penetron Azerbaijan. "The shops and public areas at the Mall currently observe social distancing measures and a face mask requirement, all in line with government health regulations. Cafés, restaurants and entertainment venues, such as the theaters, are set to open at a later time."
Chapman Taylor, a global architectural and planning firm that has completed over 2,000 projects in 90 countries, designed a sculptural form for the Deniz Mall with a series of shell roofs that reflect off the waters of the surrounding Caspian Sea. The eight star-shaped wings are inspired by Azerbaijan's national emblem and the central 'flame' tower creates a visual focus when illuminated at night. Inside are five floors (120,000m²/1.32 million square feet) of entertainment, leisure and dining areas with over 70 shops and restaurants.
Facing High Groundwater and Saltwater Penetration
Located on land reclaimed from the Caspian Sea, the project was faced with several challenges, including high levels of groundwater and saltwater penetration. Even more problematic was a compromised membrane system, which formed the basis of a much-needed waterproofing solution. Faced with flooding basement structures, the project developer and contractor, Pasha Construction, contacted Penetron Azerbaijan for a more reliable solution.
"Faced with a damaged membrane system in the midst of construction work, our client was in dire need of a solution! To protect the new reinforced concrete structures of the Deniz Mall from deterioration caused by the penetration of chloride ions in saltwater, we proposed the immediate addition of PENETRON ADMIX to the concrete mix and the application of PENECRETE MORTAR to repair cracks larger than 0.5 mm (1/51") in the concrete. The Penetron System was used to waterproof and protect the project's two underground parking garage floors, all below-grade retaining walls, the foundation slab, the elevator shafts and the elevator pits," explains Kirman Mammadov.
Significantly Improving Chloride Resistance
Once PENETRON ADMIX is mixed in during batching, it reacts in a catalytic reaction to moisture in fresh concrete to generate a non-soluble crystalline formation throughout the pores and capillary tracts of the concrete. This formation becomes an integral part of the concrete matrix, providing vastly improved chloride diffusion (i.e. corrosion resistance), sulfate resistance, and self-healing capabilities.
"We've had excellent success in Baku with Penetron's crystalline technology," adds Kirman Mammadov. "A number of local showcase projects, such as our Metro system subway tunnels and the civic water supply infrastructure, are now permanently sealed against the penetration of seawater and liquids from any direction."
The Penetron Group is a leading manufacturer of specialty construction products for concrete waterproofing, concrete repairs and floor preparation systems. The Group operates through a global network, offering support to the design and construction community through its regional offices, representatives and distribution channels.
For more information on Penetron waterproofing solutions, please visit penetron(dot)com or Facebook(dot)com/ThePenetronGroup, email CRDept(at)penetron(dot)com, or contact the Corporate Relations Department at 631-941-9700.