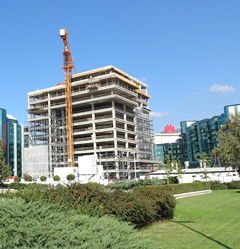 The continued success and confidence in Penetron's products – and our technical support services – is the most powerful recommendation we could get.
EAST SETAUKET, N.Y. (PRWEB) April 13, 2021
Completed in March 2021, the new Delta Real Estate HQ in Belgrade, Serbia required a lengthy excavation for the underground parking garage. Penetron Hellas delivered a comprehensive concrete waterproofing solution by applying the breadth of the Penetron System.
Delta Real Estate is a leading regional real estate company with a market focus on Serbia, Montenegro and Slovenia. Its activities include planning and project development, construction management, and real estate sales. The company's portfolio includes shopping malls, hotels, retail, office, and residential projects.
Delta Real Estate's new headquarters is home to Delta Holding and further member companies. Designed by Ami Moore of Moore Architects, the $50-million, 11-floor office building also features three below-grade levels, with two underground floors reserved for parking (188 spaces). There are 11,514 m2 of available gross leasable office space. This project was certified according to LEED sustainability standards.
Challenge of High Hydrostatic Pressure
"The main challenge we faced was the depth of the site excavation to accommodate the two subterranean levels," explains Marko Kostić, Chief Construction Engineer for Energoproject Visokogradnja (EPVG), the project contractor. "The high hydrostatic pressure from groundwater at that depth required a thoroughly reliable and durable waterproofing solution."
While a competitive solution was also being evaluated, the EPVG engineers asked Penetron to propose a suitable waterproofing solution for the new Delta Real Estate HQ project.
"Thanks to successful collaborations on previous projects in Serbia, the project engineers were familiar with the advantages of Penetron crystalline technology," adds Theodor Mentzikofakis, Managing Director of Penetron Hellas. "Our solution comprised a range of products from the Penetron System."
Protecting All Exposed Concrete
GP Napred in Novi Beograd, the concrete supplier, treated over 3,500 m3 (4,600yd3) of concrete with PENETRON ADMIX, which was used for the foundation slab, the retaining walls of the below-grade floors, the slabs on grade and perimeter, thickened slab edges, and the exposed car ramps – all concrete structures that would come in contact with soil. PENEBAR SW swellable waterstop strips (2,500 m) were used to seal the construction joints, and PENECRETE MORTAR and PENETRON were topically applied to fill the tie-holes and for minor repairs to the concrete surfaces.
"The continued success and confidence in Penetron's products – and our technical support services – is the most powerful recommendation we could get," concludes Theodor Mentzikofakis.
The Penetron Group is a leading manufacturer of specialty construction products for concrete waterproofing, concrete repairs and floor preparation systems. The Group operates through a global network, offering support to the design and construction community through its regional offices, representatives and distribution channels.
For more information on Penetron waterproofing solutions, please visit penetron(dot)com or Facebook(dot)com/ThePenetronGroup, email CRDept(at)penetron(dot)com or contact the Corporate Relations Department at 631-941-9700.