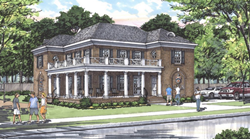 Thanks to our on-site support and the proven performance of our crystalline waterproofing admixture, PENETRON ADMIX SB was specified for this project.
EAST SETAUKET, N.Y. (PRWEB) July 27, 2021
Construction of the new home of the Phi Gamma Delta fraternity at Tennessee Tech in Cookeville, Tennessee was completed in July 2021, just in time for the start of the 2021-22 school year. PENETRON ADMIX was used to waterproof the basement retaining walls – and enhance durability.
Tennessee Technological University, or Tennessee Tech, is a public university in Cookeville, a city in central Tennessee about 80-miles (128 km) east of Nashville. With over 10,000 students enrolled, the campus comprises 87 buildings on 235 acres (95 ha). The school's academic focus is on engineering, technology, and computer science.
Phi Gamma Delta (ΦΓΔ), also known as "Fiji," is a social fraternity with more than 144 active chapters and 10 colonies across the United States and Canada. The Theta Tau chapter at Tennessee Tech is currently home to about 35 students. The previous Phi Gamma Delta chapter house was 66 years old and in need of substantial upgrades to be brought up to code and to ensure a safe living environment for students. After evaluating opportunities for renovating and expanding the current structure, it was decided to build a completely new house.
How to Waterproof a Basement
J. Cumby Construction, the project contractor, required a durable concrete waterproofing solution for the below-grade basement structure. As a result, PENETRON ADMIX SB-treated concrete was used in the basement retaining walls to ensure a waterproof basement.
"Thanks to our on-site support and the proven performance of our crystalline waterproofing admixture, PENETRON ADMIX SB was specified for this project," adds Christopher Chen, Director of the Penetron Group.
Staying on Schedule
Builders Supply, the ready-mix supplier, provided PENETRON ADMIX SB-treated concrete to ensure a durable and waterproof basement. Delivered in Penetron's unique, pre-measured soluble bag packaging, PENETRON ADMIX SB simplifies dosing and helps keep the batching process on track.
Once PENETRON ADMIX is added to the concrete mix, proprietary chemicals react in a catalytic reaction to generate a non-soluble crystalline formation throughout the pores and capillary tracts of the concrete. These crystals permanently seal micro-cracks, pores, and capillaries against the penetration of water or liquids from any direction – making the concrete impermeable and substantially more durable.
"With an impermeable concrete basement in place, the new Fiji chapter house promises to be a home to many generations of TTU students," says Christopher Chen.
The Penetron Group is a leading manufacturer of specialty construction products for concrete waterproofing, concrete repairs and floor preparation systems. The Group operates through a global network, offering support to the design and construction community through its regional offices, representatives and distribution channels.
For more information on Penetron crystalline technology solutions, please visit http://www.penetron.com, email: CRDept@penetron.com or contact our Corporate Relations Department at 631-941-9700.