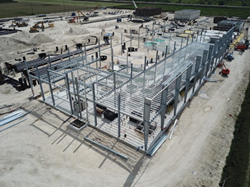 The new Atlantic Sapphire salmon farm in Florida represents the next level of sustainability and a realistic way to feed the world.
EAST SETAUKET, N.Y. (PRWEB) March 03, 2020
The March 2020 opening of phase one of the innovative Atlantic Sapphire Salmon Farm in Homestead, Florida, marks a breakthrough step towards a more sustainable farming method for Atlantic salmon, a healthy alternative to more energy-intensive meats. The Penetron System of crystalline products was used to ensure a durable home for the fish.
A once sprawling tomato field only 15 miles (24 km) from the warm waters of Biscayne Bay in Southern Florida, the Atlantic Sapphire farm is now growing a new crop: Atlantic salmon. In a region famous for growing fruit, vegetables and ornamental plants – and alligators – there now stands a world-class salmon farming facility.
As it turns out, cold-water, protein-rich fish like Atlantic salmon are well-suited for farming in Southern Florida, thanks to the ideal geological structure the Atlantic Salmon project engineers found in the Homestead, Florida location. Because salmon is one of the few fish species that migrates from fresh water to salt water, both fresh water and (larger) saltwater concrete tanks were needed. The Homestead facility taps 12 wells for both freshwater and saltwater.
The $130-million facility is now the world's largest land-raised salmon farm. Based on Atlantic Sapphire's "Bluehouse" aquaculture technology, the 380,000-square-foot "farm" hatches and grows the fish to around 10 pounds, which takes about 22 months from egg to full-grown salmon – with no hormones, antibiotics or pesticides. All operations, including processing the fish, are now ramping up and will reach full capacity in 2020.
"Atlantic Sapphire needed a durable solution for the concrete water tanks that would meet the strict requirements to protect the reinforcing steel from the salt water and chemicals in the water – where the fish are raised and water is treated," adds Christopher Chen, Director of The Penetron Group. "OHL, the project contractor, was working under tight budgetary and scheduling constraints and looked to Penetron for a solution."
Together with the project engineers and Supermix, the ready-mix supplier, Penetron reviewed the project's numerous design considerations for the enormous concrete tanks. The application of virtually the complete product range of the Penetron System was approved once the time and cost savings became apparent.
Supermix treated over 2,500 yds³ of concrete with PENETRON ADMIX SB – in soluble bags – for the tank structures. Concrete repairs and finish work were done with topical applications of PENETRON and PENECRETE MORTAR.
Today, the 36 massive recirculating saltwater "grow-out tanks" are chilled to about 59°F (16°C) with 454,000 gallons of recycled water circulating in each of the 65-foot (20 m) wide and 22-foot (7 m) deep tanks.
"The new Atlantic Sapphire salmon farm in Florida represents the next level of sustainability and a realistic way to feed the world," adds Christopher Chen. "Today, to get a pound of beef you need 4-10 pounds of feed; salmon only needs 1.1 pounds of feed for a pound of fish – and it's a healthier meat. That's better than beef!"
The Penetron Group is a leading manufacturer of specialty construction products for concrete waterproofing, concrete repairs and floor preparation systems. The Group operates through a global network, offering support to the design and construction community through its regional offices, representatives and distribution channels.
For more information on Penetron waterproofing solutions, please visit penetron(dot)com or Facebook(dot)com/ThePenetronGroup, email CRDept(at)penetron(dot)com or contact the Corporate Relations Department at 631-941-9700.