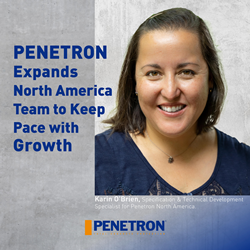 "Penetron is built on the talents and commitment of people from across our global network. They bring a wide range of expertise and ideas that consistently improve our overall efforts"
EAST SETAUKET, N.Y. (PRWEB) May 27, 2021
On May 3, 2021, Penetron announced the appointment of Karin O'Brien as Specification & Technical Development Specialist for Penetron North America. Part of the ongoing expansion of the Penetron Technical and Customer Support team, this latest appointment also addresses the company's continued strong growth across the region.
Previously the Marketing Director and Executive Director of the American Concrete Institute (ACI), Missouri Chapter, Karin O'Brien is a chemical engineer who has served the concrete industry for over 15 years, specializing in materials (cement and aggregate production) and concrete materials testing in the USA and México. She also has been working to further the quality and integrity of work processes and product specification within the concrete industry – through certification and education. With her appointment as Specification & Technical Development Specialist at Penetron, she will now be responsible for boosting technical specifications, while building long-term relationships with professionals by offering continuous education and technical support services for the North America market.
"Karin is a welcome addition to our team here in the USA," adds Christopher Chen, Director of The Penetron Group and head of all North America activities. "Her experience at the ACI and other industry partners, along with her know-how in materials science will enable her to quickly become part of all our product technology and customer support efforts across North America."
With a BSE in Chemical Engineering from the University of Michigan in Ann Arbor, MI, Karin O'Brien is a licensed Professional Engineer in the state of Illinois, a member of the United States Green Building Council (Chicago and Missouri), an accredited LEED Professional – and an avid Girl Scout Troop Leader. As a Troop Leader, Karin strives to guide the scouts and parents to be leaders, critical thinkers, and stewards of the earth. She adds; "it's possible to evaluate best practices and make choices to make progress, use resources wisely and have fun at the same time!"
Karin began her career with Holcim USA (now LafargeHolcim) as a Technical Service Engineer, then as a Technical Manager in México, and as a Marketing Manager for Central USA. Karin also held technology management positions at Franklin Energy in St. Louis (MO) as an Energy Engineer, as a Product Manager for the CTLGroup, an engineering, architecture, and materials science consulting firm in Skokie, IL, and as a Process Engineer with Ozinga Materials, a materials and concrete solutions company in Illinois.
"During all of my career, I've been dedicated to the industry, with a commitment to certification, education, and sustainability in concrete construction. My passion extends from Field Grade I technicians to Flatwork Finishers and Special Inspectors," adds Karin O'Brien. "I look forward to sharing this passion with the Penetron team, and advancing best practices of integrity, durability, and sustainability in concrete construction across the industry."
Penetron is built on the talents and commitment of people from across our global network. They bring a wide range of expertise and ideas that consistently improve our overall efforts," says Robert Revera, President and CEO of The Penetron Group. "We're thrilled to welcome Karin to our USA organization. As an expert in material specifications of the concrete industry – she will be an outstanding addition to headquarters and our global team!"
The PENETRON Group is a leading manufacturer of specialty construction products for concrete waterproofing, concrete repairs and floor preparation systems. The Group operates through a global network, offering support to the design and construction community through its regional offices, representatives and distribution channels.
For more information on PENETRON waterproofing solutions, please visit penetron(dot)com or Facebook(dot)com/ThePenetronGroup, email CRDept(at)penetron(dot)com, or contact the Corporate Relations Department at 631-941-9700.