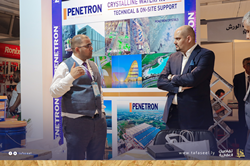 This year, we were honored to have Abd Alhmid Dibiba, the Prime Minister of Libya, visit the Penetron booth.
EAST SETAUKET, N.Y. (PRWEB) January 12, 2023
The 12th annual Libya Build Expo took place from May 30th-June 2nd, 2022, at the Tripoli International Fairgrounds in Tripoli, Libya. Penetron North Africa welcomed clients, buyers, distributors – and a special guest – to raise awareness of Penetron's innovative crystalline concrete waterproofing technology.
The Libya Build Expo is the largest annual construction industry show in North Africa. With over 300 exhibitors from around the Mediterranean region, the Middle East, and Asia showing off innovations, products, and services for the construction and design industry, the Expo welcomes approximately 14,000 construction industry professionals to the Tripoli venue every year.
"This year, we were honored to have Abd Alhmid Dibiba, the Prime Minister of Libya, visit the Penetron booth," says Kadem A. Elbarghathi, Managing Director of Penetron North Africa. "He took a moment to learn about our crystalline waterproofing technology – and see the number of Libyan projects we recently completed."
Showcasing the profiles of how Penetron products are used in different applications, along with technical illustrated posters of how Penetron's crystalline technology makes concrete impermeable, the Penetron team encountered a high level of interest among the Expo visitors.
"This year's Libya Build Expo was a very positive event for Penetron," adds Kadem A. Elbarghathi. "We're already looking forward to next year's show, which is scheduled for May 22-25, 2023 in Tripoli. See you there!"
The Penetron Group is a leading manufacturer of specialty construction products for concrete waterproofing, concrete repairs, and floor preparation systems. The Group operates through a global network, offering support to the design and construction community through its regional offices, representatives, and distribution channels.
For more information on Penetron waterproofing solutions, please visit penetron(dot)com or Facebook(dot)com/ThePenetronGroup, email CRDept(at)penetron(dot)com or contact the Corporate Relations Department at 631-941-9700.