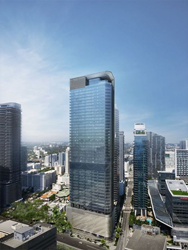 PENETRON ADMIX has been proven to extend the service life of concrete structures by 60 years or more, even in the challenging environmental conditions of Miami and Southern Florida
EAST SETAUKET, N.Y. (PRWEB) February 17, 2023
The 830 Brickell Office Tower, the tallest office tower in downtown Miami, has been inaugurated and stands as a testament to the durability of Penetron crystalline waterproofing technology. This $235 million project located in close proximity to the water of Biscayne Bay, was designed with the elements in mind, featuring hurricane impact resistant glass and a concrete foundation that was treated with Penetron technology to provide optimal corrosion protection.
With interiors designed by Italian designer, Iosa Ghini Associati and architects Adrian Smith + Gordon Gill Architecture, the 830 Brickell Tower boasts 57 floors and 640,000 sq ft of office space, making it the central business district's tallest office tower and the second tallest office building in all of Miami. The building is home to top companies including Microsoft, Thoma Bravo, A-CAP, CI Financial, Marsh Insurance, AerCap, and WeWork.
The building features amenities such as a large outdoor terrace on the 14th floor, a Sky Lobby on the 30th floor, and a rooftop bar/lounge and high-level restaurant on the 54th floor, offering stunning 360° views of Miami and Biscayne Bay.
The Penetron team worked closely with ready-mix concrete supplier, Supermix, to provide a cost-effective and reliable waterproofing solution for the foundation of the building. The use of PENETRON ADMIX treated concrete mix and PENEBAR SW-55 swellable waterstop along the construction joints and penetrations has provided the building with a self-healing capability. The proprietary chemicals in PENETRON ADMIX react with moisture and concrete minerals to form insoluble crystals, sealing microcracks and providing self-healing abilities, thus virtually eliminating the need for future maintenance.
"PENETRON ADMIX has been proven to extend the service life of concrete structures by 60 years or more, even in the challenging environmental conditions of Miami and Southern Florida," says Christopher Chen, Director of The Penetron Group. The 830 Brickell Office Tower stands as a shining example of the power of Penetron technology in providing a durable foundation, even in the face of Miami's harsh weather and proximity to the water.
The Penetron Group is a leading manufacturer of specialty construction products for concrete waterproofing, concrete repairs, and floor preparation systems. The Group operates through a global network, offering support to the design and construction community through its regional offices, representatives, and distribution channels.
For more information on Penetron waterproofing solutions, please visit penetron(dot)com or Facebook(dot)com/ThePenetronGroup, email CRDept(at)penetron(dot)com, or contact the Corporate Relations Department at 631-941-9700.