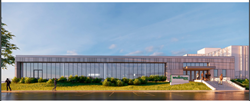 Because it is particularly effective in aggressive environments, PENETRON ADMIX was the ideal waterproofing solution for WholeStone Farms.
EAST SETAUKET, N.Y. (PRWEB) October 20, 2020
The expansion of the WholeStone Farms pork processing facility in Fremont, Nebraska was completed in September 2020. The $200 million project included a new wastewater treatment facility. The concrete treatment tanks and walls of the plant were treated with PENETRON ADMIX to ensure waterproof and durable concrete structures.
WholeStone Farms, who raise 12 million pigs annually, was established in 2017 by 220 independent farmers from the Upper Midwest region of the United States. The expanded 700,000 square foot facility now processes over 10,600 hogs per day (about 2.2 million pounds of fresh pork). The renovation and expansion of the former Hormel plant comprised a new CO2 stunning facility, expansion of the carcass cooling area, and expanded office and employee areas. The design and engineering were carried out by Epstein and construction was done by Building Crafts.
"With an eye on the export markets, WholeStone added processing capacity at the new plant," explains Christopher Chen, Director of the Penetron Group. "This extra capacity also meant the addition of a new wastewater treatment plant."
The addition of the new wastewater treatment plant (WWTP) also included upgrades to the existing WWTP, including enhanced filtration and disinfection capabilities to meet regulations for nutrient removal and to comply with the newest wastewater treatment (ATW) standards. The completed project doubled wastewater treatment capacity at the site from 600,000 gallons/day to 1.2 million gallons/day.
Adding Durability to a WWTP
The concrete structures in a WWTP are continually exposed to the aggressive elements typically found in wastewater treatment plants – which can include chlorides, sulfates, nitrates, disinfectants, and a fearsome array of aggressive compounds found in wastewater or the plant's process chemicals. Penetron crystalline technology has become an invaluable tool for WWTP design engineers to reduce permeability and increase the lifespan of concrete headworks, grit collection, tertiary treatment, digestion, and disinfection tanks.
Reducing Concrete Permeability
When added to the mix, PENETRON ADMIX reacts in a catalytic reaction with moisture in fresh concrete to generate a non-soluble crystalline formation throughout the pores and capillary tracts of the concrete. This reduces concrete permeability, increases chemical resistance, provides protection against sulfate attack and enables self-sealing of micro-cracks for the service life of the concrete – enhancing the structural durability of concrete elements in aggressive environments.
"Because it is particularly effective in aggressive environments, PENETRON ADMIX was the ideal waterproofing solution for WholeStone Farms," concludes Christopher Chen.
The Penetron Group is a leading manufacturer of specialty construction products for concrete waterproofing, concrete repairs and floor preparation systems. The Group operates through a global network, offering support to the design and construction community through its regional offices, representatives and distribution channels.
For more information on Penetron crystalline technology solutions, please visit http://www.penetron.com, email: CRDept@penetron.com or contact our Corporate Relations Department at 631-941-9700.