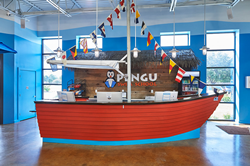 "Learning how to swim is a process, not an event. Our mission is to reach the child and to create a positive relationship with the water in a safe and fun environment. We want to be a reliable partner for you and your child, all the way from learning survival skills, to becoming a strong swimmer."
CYPRESS, Texas (PRWEB) May 26, 2019
Today, Pengu Swim School, a family owned business that believes firmly in the importance of teaching kids about water safety and helping them become confident swimmers is announcing a new location opening in Cypress Texas.
This newly constructed 8000 square foot indoor pool facility will be in the master planned community of Towne Lake at the intersection of Cypress North Houston Road and Greenhouse Road.
Pengu Swim School is also currently operating three other locations in the Greater Houston area. They first opened in 2012 in the Houston Heights next in 2016 was Cinco Ranch in Katy, Texas, and 2018 Riverstone in Sugar Land, Texas.
The two owners, Tiffany and Lothar Hofbauer have a real passion for working with kids, and this reflects in all what Pengu Swim School is and does. Of the company's recent expansion success, Lothar Hofbauer said, "Learning how to swim is a process, not an event. Our mission is to reach the child and to create a positive relationship with the water in a safe and fun environment.
We want to be a reliable partner for you and your child, all the way from learning survival skills, to becoming a strong swimmer." Tiffany Hofbauer further explains, "As parents of three children we experienced the need for a good infrastructure in water education that reaches the children and their parents. With Pengu Swim School, you'll find a place where your children will be excited to come, a place that is a gathering point for friends and family, in or out of the water."
To grow this business, Pengu Swim School designed and executed the following facility plan. First of all, they started with a separate climate controlled viewing gallery for parents. Next, they developed the State of the art water purification system. Followed by, humidity control in the pool area with a water temperature of approximately 90 degrees. There is a kid-friendly sailing Beach theme décor. A snack bar is offering healthy snacks, "goodies," and a variety of drinks for busy parents on the go. Individual changing rooms with diaper changing stations. Dedicated play area for siblings and students to use while they wait. Blow dryer station for after lessons, so the kids do not need to walk out with a wet head of hair. The all-important swimsuit dryer. "PENGU store" offering a variety of goggles, swimsuits and aquatic toys. Free WiFi to all the parents who need to keep up while their children enjoy swimming lessons.
About Pengu Swim School: Pengu Swim School is a state of the art indoor aquatic facility serving children from the age of 4 months and up based in Houston, Texas.
Pengu offers perpetual year-round lessons for $78.00 per month. Year round lessons mean that students don't sign up for single sessions, but continue to come weekly on a month-to-month basis, with an option to cancel with a 30-day notice at any time.
Pengu Swim School - Towne Lake address is 18331 Cypress North Houston Rd, Cypress, TX 77433 and phone number are (281) 941-8017.