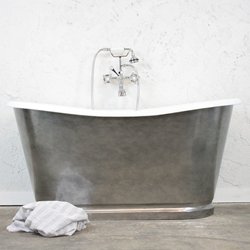 (PRWEB) May 21, 2015
On Tuesday, May 12th 2015, Penhaglion officially launched two of their most popular skirted cast iron tubs in a 59" version. Penhaglion, Inc. crafts specialized, beautiful Clawfoot and Bateau Cast Iron Bathtubs.
The "Lindisfarne" and "Whitby" models were first introduced by Penhaglion in 68" lengths. After the overwhelming demand for a larger size, Penhaglion produced 73" versions. To complete the tub range, the small 59" versions were recently created and launched. The new 59 inch tubs have been widely received by designers, builders, and homeowners thus far.
Ed Malek from Penhaglion notes that "We are seeing greater interest in smaller tubs for 2015, so the timing was perfect to introduce the 59" Whitby and Lindisfarne. Prior to these two tubs being available on our website, we had presold quite a few of them with inquires coming in for a smaller version." Malek continues to note that the team at Penhaglion is thrilled to have officially launched the new line!
The Lindisfarne model is a stainless steel skirted cast iron tub. The stainless steel exterior shell is brought to a mirror finish, which has a fabulous reflection.
The Whitby model is steel skirted cast iron tub with an aged chrome finish on the exterior. The model is available in either a light or dark aged chrome finish.
Contact sales@Penhaglion.com to request more information about these new models.
About Penhaglion Inc.:
Penhaglion, Inc. supplies specialized, exclusive, and beautiful clawfoot tubs and Bateau Cast Iron Bathtubs. Wide selections of luxurious Bateau Cast Iron Clawfoot Bathtubs at the most competitive prices are available at http://www.penhaglion.com. The luxurious appearance combined with a practical function has made claw foot tubs timeless. If you are looking for a beautiful clawfoot tub from a company with an exceptional industry reputation and uncommon quality, look no further than Penhaglion, Inc.