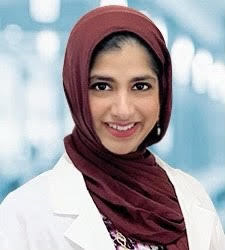 PHILADELPHIA (PRWEB) April 22, 2021
Penn Medicine Becker ENT and Allergy is pleased to announce that Naba A. Sharif, MD has joined the practice as an Allergist and Immunologist. The practice is thrilled to gain Dr. Sharif's skills and experience for patients struggling with allergies, asthma and immune deficiencies. She will serve the needs of both adult and pediatric patients and offer a complete range of in-office allergy and immunology care. She joins a renowned team of ENT and allergy specialists in Pennsylvania and New Jersey.
Dr. Sharif's earned her undergraduate degree from Wellesley College and a medical degree with distinction in research from SUNY at Stony Brook School of Medicine. She completed her residency in pediatrics at Brown University and went on for additional fellowship training in adult and pediatric allergy and immunology at the NorthShore-Long Island Jewish Health System.
Dr. Sharif was honored as a Fellow of both the American Academy of Allergy, Asthma & Immunology and the American College of Allergy, Asthma & Immunology – the premier national organizations in the field. She has served as a pediatrician and allergist-immunologist in the Washington DC area and as an instructor of medical students, both teaching and guiding young trainees in the steps of diagnosing and treatment of allergies and illnesses. She spends her time outside of work involved in health education and community service.
Becker ENT and Allergy, with the expertise of many fine fellowship-trained, board-certified physicians such as Dr. Sharif, offers in-office and telemedicine appointments for allergies and ENT concerns. Our staff of otolaryngologists works closely with the team of Allergists to assist patients with conditions ranging from allergies to chronic sinusitis to hearing loss.
Parents in the New Jersey area and Pennsylvania will be happy to know that an allergist with a strong background in pediatrics has moved into the region. Dr. Sharif's expertise as a pediatrician as well as an allergist and immunologist can help families navigate the challenges involved in protecting a child with severe allergies. Allergy symptoms can range from the traditional cough and runny nose, to more severe reactions related to environmental or food allergies.
It is also important to note that pediatric allergies can manifest differently than an adult's allergies and require different treatments. While the immune response to a particular allergen in the environment may be inherited, the reaction could be severe or so mild as to be missed until the child has a severe reaction or the cough and sniffling become chronic. Early diagnosis and planning to avoid the allergen and lessen the impact can reduce the severity of the reactions over time. Coordinating a care plan for schools and caregivers is also a top priority.
In addition to her experience with the pediatric population, Dr. Sharif also has a decade of experience managing the allergies of adults and has built a stellar reputation. Whether patients have skin rashes, hives, "hay fever," or reactions to medications or foods, Dr. Sharif and her allergy team are prepared to help. She is able to provide the highest standard of comprehensive allergy care to family members of all ages efficiently and effectively, while building long-term relationships and improving the quality of life of her patients.
Dr. Naba Sharif is an excellent addition to the Becker ENT and Allergy Practice. She sees patients in the Princeton, NJ and Yardley, PA offices. Allergy sufferers in central New Jersey and Pennsylvania can move confidently into spring with her expert care!
Penn Medicine Becker ENT and Allergy is dedicated to providing families in New Jersey and Pennsylvania with the very best care for their allergy concerns. Contact us for an appointment to address your allergy concerns for yourself or your child.