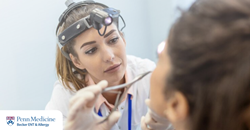 PRINCETON, N.J. (PRWEB) January 02, 2023
Penn Medicine Becker ENT & Allergy is a leading ear, nose, and throat care provider in New Jersey. Becker ENT & Allergy offers a wide range of ENT services to patients of all ages. A team of board-certified otolaryngologists, audiologists, allergists, facial plastic surgeons, and speech-language pathologists provide comprehensive ENT care. Becker ENT is setting new standards in quality and customer service.
To learn more, please visit: https://www.beckerentandallergy.com/
Recently on October 26th, 2022, Town Topics Princeton's Readers' Choice Awards were announced, and Becker ENT & Allergy is proud to be listed in the Health and Wellness section!
The awards are based on a survey conducted by Town Topics, an independent weekly newspaper serving the greater Princeton area. Every year, they ask their readers to tell them their favorite businesses in town, from restaurants and shops to services and more.
If you want to learn more about Becker ENT & Allergy or make an appointment, please visit their website or call us at 215-515-5999. The Becker ENT & Allergy team is proud to serve the Princeton community and looks forward to continued growth and success.
Becker ENT and Penn Presbyterian Medical Center have the best ENT Doctors in Philadelphia.
Becker ENT provides medical treatment to numerous states in the U.S., and many people have appreciated their work. In Princeton, New Jersey, Becker ENT has two branches. Becker ENT is known for its research, teaching, and technology in the world of otolaryngology. This group has been able to treat many disorders successfully and has even found cures for some.
Becker ENT understands that many people get used to chronic swallowing disorders, balance disorders, salivary gland disorders, sinus disorders, smell disorders, and speech disorders without realizing there is a solution to their problems.
At Becker ENT & Allergy, every ENT physician works together to achieve their promise of providing every patient with the respect, time, and individualized attention they deserve.
Frequently referred to as the best allergy & hearing loss services provider in the area, Becker ENT is committed to offering the latest and most advanced treatments. State-of-the-art equipment is always used. Neck surgery, ear infections, head and neck cancer, hearing aids, and reconstructive surgery aid services are available.
Becker ENT Specializes In:
Hearing Aids
Becker ENT is one of the largest hearing aid dispensers in the region and is proud to offer a wide variety of digital hearing aids from the leading manufacturers. Hearing aids can help people with mild, moderate, and severe hearing loss. At Becker ENT, audiologists treat hearing loss and other disorders like tinnitus.
If you've been experiencing ringing in your ears (tinnitus) for more than three months, you may need to see a specialist. Tinnitus occurs when there's noise inside your head that sounds like someone whispering or humming. It may come and go, or it could be constant.
Ear Infections
Various ear problems can be painful and downright frustrating, especially when they return. If you're struggling with chronic ear infections, it may be time to consult with an ENT Specialist. Becker ENT has a board-certified team of specialists who can help you find the root of the problem and provide long-term solutions.
Numerous factors can contribute to chronic ear infections, including allergies, sinus problems, and blockages in the ear. In some cases, surgery may be necessary to correct structural issues in the ear that contribute to chronic infections. However, there are often nonsurgical options available as well.
Hearing Loss
Hearing loss is a common problem, especially as we age. According to the National Institute on Deafness and Other Communication Disorders (NIDCD), about one in three people in the United States have hearing loss between the ages of 65 and 74. It is not just a problem for older adults. Some studies also report that about 15% of American children ages 6 to 19 have hearing loss.
Becker ENT is here to help. They have a wide range of services to help people with hearing impairments, from testing and diagnosis to treatment and rehabilitation. Their doctors are highly trained and use state-of-the-art technology to provide effective care. When it comes to ear health, it's better to be safe than sorry. If you or a loved one suffers from hearing problems, we recommend calling Penn Medicine Becker ENT & Allergy to schedule your appointment.
Audiologists at Becker ENT are continuously working to help patients cope with difficulty hearing. With extensive experience, the team often finds solutions that enable patients to reduce their hearing problems' impact on their everyday lives.
Recognized Leaders
Penn Medicine's Becker ENT & Allergy specialists are recognized leaders in their fields. At Becker ENT, you won't have to wait long for treatment and receive the exceptional care you deserve. Becker ENT condemns the "take a number and have a seat" healthcare attitude making it easy and convenient for you to get the care you need.
But it's not just the convenience factor that sets Becker ENT apart. It's also the patient experience and the knowledge of their staff. Please see the links below for more information about Penn Medicine's Becker ENT & Allergy.
Contact
Organization: Penn Medicine Becker ENT & Allergy
Website: https://www.beckerentandallergy.com/contact
Location: 256 Bunn Drive, Suite A
Princeton, NJ 08540
Phone: (609) 354-5445 | Get Directions