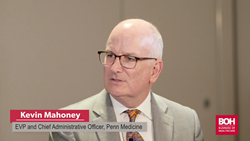 "Anyone going into healthcare leadership should know that we should be putting ourselves out of business," Kevin Mahoney, Executive Vice President and Chief Administrative Officerof Penn Medicine.
CHARLOTTE, N.C. (PRWEB) September 27, 2018
Kevin Mahoney, EVP and Chief Administrative Officer for Penn Medicine, and Joe Gasque of GE Healthcare discuss nurturing future healthcare leaders in a time of massive change. Watch on BOHSeries.com or listen on iTunes, Stitcher, Google Play, iHeartRadio or Libsyn.
"Anyone going into healthcare leadership should know that we should be putting ourselves out of business, we should be trying to close every hospital we own, we should be trying to get people as healthy as they can be without artificial interventions," said Kevin Mahoney in a recent Business of Healthcare interview.
Mahoney is Executive Vice President, Chief Administrative Officer & Executive Vice Dean for Integrative Services for Penn Medicine, a part of the University of Pennsylvania Health System. In his role, he has oversight for Human Resources, Information Systems, Clinical Engineering, Design, Construction, Real Estate among other responsibilities including Clinical Care Associates a 200-physician primary care network.
Mahoney joined BOH host Matthew Hanis to discuss his work at Penn Medicine and describe his vision of the future of healthcare leadership. Joseph Gasque, Chief Marketing Officer for GE Healthcare's US & Canada business, also joined the interview to provide a commercial view into healthcare leadership.
"As we work with clients on mitigating risk, on how GE Healthcare can share in that risk, our leadership approach helps us cross the chasm of trust a little bit faster. It takes trust to be able to enter into the some of these relationships," reflected Gasque. GE Healthcare has been an innovation leader in risk-sharing in supply chain partnerships, a topic covered in a separate BOH interview.
Gasque is the Chief Marketing Officer for the $8 billion US & Canada region of GE Healthcare. His responsibilities include recruiting, developing and incentivizing commercial talent, commercial deal support, and engaging healthcare professionals to drive demand and brand preference through regional marketing programs.
The interview was recorded during the Commission on the Accreditation of Healthcare Management Education (CAHME) 50th anniversary celebration. CAHME sets competency and accreditation guidelines for the nation's healthcare leadership graduate programs. The event brought together some of the nation's top healthcare leaders and leadership experts to define a vision for the next 50 years of healthcare leadership education.
Both Gasque and Mahoney expressed similar thoughts on the future of healthcare leadership, suggesting a convergence of academic, provider, and commercial perspectives. These themes include leadership through influencing & inspiring, teamwork, empathy, and partnership. Both also emphasized the importance of formal mentoring and leadership education.
"We spend almost $3 million dollars a year on tuition reimbursement for our employees," reported Mahoney. "We encourage them to use as much of that as they can and I'd like to double this investment."
Even their own journey to leadership, which they each share in the interview, offers lessons in nurturing future leaders. Mahoney shared, "When I was nineteen, I fell under a farm tractor and ended up in the hospital for a long time. I absolutely loved the teamwork of the nurses and the doctors that took care of me and I walked out convinced I wanted to be in the hospital administration."
Gasque describes developing his leadership gift of balance, that is being emotionally steady in challenging situations, as coming from misfortune. "My father passed when I was twelve. My two sisters and mom always looked to me for the answer of what should we do next. From that, I learned this positive attitude of 'We can do it, we can move forward.'"
He goes on to share becoming self-aware of this trait and its origin through a GE Healthcare leadership training course which, "Had us reflect on our own experiences, both positives and challenges, which makes us stronger and how to be yourself with skill. Don't be somebody else but you do have to refine the edges."
To watch the full interview visit http://www.BOHSeries.com. Listen in podcast format by looking for Business of Healthcare and our red logo on iTunes, Stitcher, or Libsyn.
This interview was made possible by GE Healthcare, the Commission on the Accreditation of Healthcare Management Education, Saint Louis University, and the Jefferson College of Population Health.