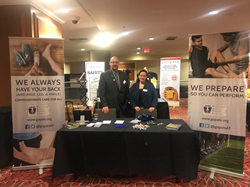 "Many student attendees had questions about the roles of an Athletic Trainer as well as how to improve their working relationship when an on-field transport is warranted. The students were very receptive to the inter-professional collaboration we had to offer." - PATS SW Representative Bill Ankrom
PITTSBURGH (PRWEB) March 07, 2019
Pennsylvania Athletic Trainers' Society (PATS) President Elect Dr. Shelly DiCesaro and Southwest Representative Bill Ankrom participated in 26th annual National Collegiate Emergency Medical Services Foundation (NCEMSF) Conference located in Pittsburgh, Pennsylvania. The conference included workshops, skills classic event, alumni networking, and poster presentations. On February 23rd, NCEMSF held a vendor and career fair at which PATS had a booth. President Elect DiCesaro and Representative Ankrom occupied a table with give-away items, PATS informational displays, and were available to answer questions from the 1300 attendees. Ankrom said on the event, "Many student attendees had questions about the roles of an Athletic Trainer as well as how to improve their working relationship when an on-field transport is warranted. The students were very ambitious and eager to gain knowledge. They were very receptive to the inter-professional collaboration we had to offer."
"The National Collegiate Emergency Medical Services Foundation (NCEMSF), a non-profit professional organization, promotes the development of campus based emergency response groups. These groups are trained to respond in any emergency. Today, there are over 250 schools across North America that provide campus based emergency medical services. They respond within minutes and provide care tailored specifically to campus emergencies. In addition to providing medical care, campus based EMS groups provide a unique experience for students. Many of campus based EMS groups are student staffed and organized. This allows students to develop leadership, communication, and decision-making skills while positively impacting other people's lives. The life skills learned from participation in such activities have proven beneficial to future careers. NCEMSF achieves its mission by providing a forum for communication among campus/community based emergency services groups. The Foundation promotes an environment where ideas can be exchanged and problems can be solved. I welcome you to explore our web site and learn more about NCEMSF. I hope that you find it both informative and educational."
For more information from their website, please visit http://www.ncemsf.org.
For more information regarding this topic or to schedule an interview with PATS President George Roberts Med, LAT, ATC, please contact Linda Mazzoli MS, LAT, ATC, PATS Executive Director at patsexecutivedirector (at) gopats (dot) org.
The Pennsylvania Athletic Trainers' Society, Inc. is a progressive organization of licensed health care professionals who work under the direction of a licensed physician. Our society continues to increase public awareness and education regarding Athletic Trainers and the Athletic Training profession while serving as the premier source of information for public safety, injury and illness prevention, early intervention, patient care, and healthcare delivery for the physically active in the Commonwealth.
"The Keystone to a Healthy and Physically Active Life"