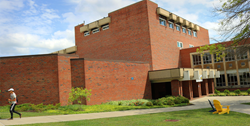 "The academic facility improvements will enhance the educational and training options at Thiel College."
GREENVILLE, Pa. (PRWEB) September 01, 2018
Thiel College, a leading liberal arts college in northwest Pennsylvania, was awarded $1 million for improvements to laboratories, classrooms and common areas through a state Redevelopment Assistance Capital Program.
"The academic facility improvements will enhance the educational and training options at Thiel College, increasing the reasons why students who choose a post-secondary education in Pennsylvania are given every opportunity to forge a path toward a successful future," Pennsylvania Governor Tom Wolf said.
A statewide announcement of the grant award was made Thursday morning.
"This grant recognizes the impact of Thiel College on the economics and lives of people in our region," Thiel College President Susan Traverso, Ph.D., said. "The Academic Center is the nerve center for the learning that occurs at Thiel, and these investments will benefit the next generations of graduates in new programs in environmental safety and healthcare. The brick-and-mortar improvements will enhance the student experience in the lab and classroom and continue Thiel's 150-year-plus tradition of its students becoming career-oriented graduates."
Traverso said the College is grateful for the support of state Sen. Michele Brooks (R-Crawford/Erie/Mercer/Warren) and state Rep. Mark Longietti (D-Mercer) in guiding the College's application through the process.
"We appreciate the hard work and collaborative spirit that led to this investment in our campus," Traverso said. "Vice President for College Advancement Roberta Leonard and Senior Vice President for Finance and Management Bob Schmoll framed the grant application along with Vice President for Academic Affairs and Dean of the College Liz Frombgen. I cannot say enough about the strong support that the College enjoys from our elected officials and community leaders. Our region is strengthened when the community comes together around a common goal."
These grant funds will support improvements throughout the Academic Center as well as the creation of a community clinic with our communication sciences and disorders program, Traverso said, "Thiel College has offered its students academic excellence for more than 150 years, but its value to the community far transcends its strong academic reputation," Brooks said. "Thiel is a vital educational and economic resource, while also being a leading employer. It is such an essential part of our community.
Longietti said the funding will help Thiel continue as a leading area employer and regional partner.
"Returns from this investment will reach far beyond the campus," Longietti said. "Thiel College is a driving force for the local economy and the entire region. The new center's enhanced resources—including expanded STEM training that's so vital to today's high-skill jobs—will help fortify our manufacturing industry and allow it to keep pace with changes in the global market.
"At the same time, as our area economy expands to include the health and education fields, the new academic center will help meet those demands by providing expanded research facilities and new programs of study."