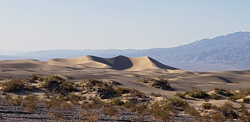 Our Death Valley National Park Tour is one of our most popular itineraries
LAS VEGAS (PRWEB) November 16, 2019
Death Valley got its name in 1850 by gold seekers that were barely able to escape its harsh environ alive. They found it to be uninhabitable and left it, abandoning it after a short time and moving on. Yet, no one can dispute it is a mysterious place with a dramatic beauty that comes from an extreme and varied geology and topography. This in itself warrants interest but is there more of a reason people are especially drawn to this amazing and iconic desert destination this 2019 November?
"The name Death Valley itself is intriguing to people, compelling them to want to check it out", says Erwin Kollegger, owner, along with wife Carolyn of Las Vegas tour company - Out West Adventure Tours. "Our Death Valley National Park Tour is one of our most popular itineraries", says Tour Master Erwin. He is there on average two to three times per week sharing his vast knowledge of the place, and obvious respect, with private tour clientele. But, there's more drawing an enthusiastic audience to Death Valley than it's name and infamous history as a barren uninhabitable and unforgiving place.
"The current draw has to do with not one, but two relevant and significant dates in the park's history!" explains Carolyn Kollegger. "This is the 25th Anniversary of Death Valley being designated a National Park. At the same time, it's also the 70th Anniversary of the Annual 49er Encampment!"; a commemoration of those that came in search of gold during the California Gold Rush of 1849.
With much to do and see in Death Valley, a visit there easily takes the better part of a day. "There are so many points of interest in the park; The Amargosa Opera House (yes, an Opera House!) Zabriskie Point, Dantes's View with it's incredible view of saline shorelines, Badwater Basin (which sits in the lowest elevation in the Western Hemisphere at 282' below sea level!), the Badlands, 20 Mule Team Canyon, Mesquite Flat Sand Dunes (where Star Wars scenes were filmed), and the Ubehebe Crater sitting in a huge crater field are just a few of Death Valley's popular landmarks," Erwin explains. "It seems everyone wants to see the lowest elevation in the Western Hemisphere and experience one of the world's hottest places at the same time!"
Because of the general popularity and this historical double anniversary, amazing amounts of people are coming from around the country, and around the world, to visit and celebrate the American West in the heart of the incredible Death Valley National Park!
Erwin and Carolyn are owners and operators of the Las Vegas tour company - Out West Adventure Tours; a top rated Las Vegas private & custom tour agency by Viator and TripAdvisor. They offer a variety of tour options to visitors of the Las Vegas valley including Death Valley, Grand Canyon, Hoover Dam, Valley of Fire, Historic Route 66 & more. You can view all their tours as well as learn more about them and the places they go by visiting their website.
https://outwestadventuretours.com/