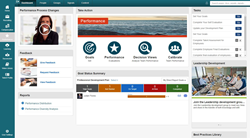 Talent Management Essentials is truly a game-changer that will significantly improve the implementation experience for our clients and set them up for success from day one.
WALTHAM, Mass. (PRWEB) August 22, 2018
PeopleFluent, a global leader in integrated talent management solutions, announced its latest innovation with the launch of PeopleFluent Talent Management.
Talent Management Essentials is a guided approach to implementing talent management software that streamlines configuration as well as integration of client data. The approach leverages pre-configured solutions to enable clients to incorporate best practices, quickly implement their strategic vision, and realize immediate business value.
Talent Management Essentials is available for PeopleFluent's best-of-breed Compensation Management, and Performance Management solutions.
This novel implementation model draws on the company's experience and knowledge of HR technology, talent management processes, and change management to maximize efficiency and minimize resource investment.
Said Dale Solomon, PeopleFluent Managing Director:
"We are delighted to launch Talent Management Essentials to the broader market. It is truly a game-changer that will significantly improve the implementation experience for our clients and set them up for success from day one. As a best-of-breed solutions provider, it was critically important for us to provide the best implementation experience without sacrificing any functionality, and Talent Management Essentials accomplishes exactly that."
Said Steve Goldberg, VP & Research Director of Human Capital Management Research at Ventana Research:
"The time it often takes to fully configure talent management software has caused many organizations to continue relying on spreadsheets. Pre-configured software can obviously be implemented much more quickly, expediting change management, adoption and therefore the time to reap business benefits."
Learn more about PeopleFluent Talent Management Essentials.
About PeopleFluent
As a market leader in human resources solutions for the digital enterprise, PeopleFluent helps companies build and power a productive workforce. We serve the global market, with specific capabilities for healthcare, financial services, manufacturing, and retail. Our cloud-based software solutions adapt to complex and unique talent processes, while clarifying their strategic value.
Our Talent Productivity Platform unifies talent acquisition and talent management into a single, collaborative experience that attracts the best candidates, helps managers make better decisions, and empowers employees to grow their careers.
A part of Learning Technologies Group plc (LTG), PeopleFluent works with large and multinational organizations across 214 countries and territories—including 80% of the Fortune 100.
For more, visit ww.peoplefluent.com.