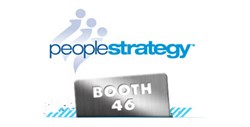 PeopleStrategy is excited to present our new enterprise class Human Capital Management solution, PeopleStrategy eHCM, at the largest annual HR technology show, HR Tech.
Atlanta, GA (PRWEB) September 12, 2013
PeopleStrategy, Inc., a leading provider of Human Capital Management (HCM) solutions, today announced that it will be launching PeopleStrategy Enterprise HCM (eHCM), its new enterprise class Software-as-a-Service Human Capital Management Product Suite at the HR Technology® Conference & Exposition in Las Vegas on October 7–9, 2013.
With the launch of PeopleStrategy eHCM, PeopleStrategy continues to build upon its history of delivering innovative and proven solutions with extraordinary customer focus by providing administrators and managers with a comprehensive, integrated product suite to successfully perform mission-critical and strategic processes—in less time, at a lower cost and with fewer resources. In addition to simplifying core HR and payroll tasks, PeopleStrategy eHCM can help employers automate their talent acquisition, benefits administration, time and labor and talent management functions through a single, web-based system, increasing efficiency and productivity across the enterprise. PeopleStrategy eHCM also equips senior level management with access to powerful data and analytics to help identify trends within the organization; guide more proactive, business-oriented decisions and strategies; and ensure compliance with governmental regulations and requirements.
"PeopleStrategy is focused on delivering solutions and service that will earn us Clients for Life. We work closely with our clients and partners to understand their needs and to validate the trends we observe in the marketplace," said Randy Cooper, CEO of PeopleStrategy. "Our enterprise HCM solution is a direct result of client and partner feedback coupled with the vision and innovation of an experienced and determined PeopleStrategy team. We are looking forward to presenting our next generation solution at HR Tech."
PeopleStrategy will continue to offer and support its HROnline product offering, which will primarily service the small and mid-sized market.
The HR Tech Expo is October 7 – 8, 2013 at Mandalay Bay in Las Vegas. Attendees are encouraged to meet the PeopleStrategy team at Booth #46 and learn more about how PeopleStrategy can help solve many of the challenges associated with managing a workforce in an ever-changing business environment. Attendees also can contact PeopleStrategy Sales at 404.410.4100 or sales(at)peoplestrategy(dot)com to schedule a demonstration of the new enterprise software in advance.
About PeopleStrategy, Inc.
PeopleStrategy is a leading Software-as-a-Service (SaaS) provider of versatile Human Capital Management (HCM) solutions designed to help companies of all sizes successfully perform mission-critical payroll and human resource management functions - in less time, at a lower cost and with fewer resources. Learn more at peoplestrategy.com. For more information, please visit our web site at http://www.peoplestrategy.com