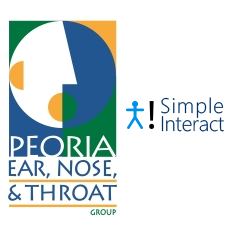 We are always looking for innovative methods to service a very large patient base across multiple specialties.
PEORIA, Ill. (PRWEB) May 21, 2019
Peoria Ear, Nose & Throat Group, one of the largest multi-specialty practice groups in Peoria County, says they are embracing a people-plus-technology strategy to help service a rapidly-growing patient base while continuing to deliver the highest quality patient experience and care. As part of this strategy, they have partnered with Dallas-based Simple Interact to automate repetitive tasks while training their employees to focus on high-value interactions with patients.
The group uses Simple Interact's software to automate activities such as confirming appointments, sending timely reminders, proactively addressing patient feedback, consistently capturing online reviews, capturing patient registration data, and streamlining as well as speeding up patient workflow in the front office.
"We are committed to providing the highest quality of care to our community.", said Robert Tudor, CEO at Peoria Ear, Nose & Throat Group. "We are always looking for innovative methods to service a very large patient base across multiple specialties. Our partnership with Simple Interact has allowed us to take a digital approach to running a very efficient Practice. This frees up time for our staff to focus on patient care. This has allowed us to optimize our workflow and patient engagement."
"We are thrilled to be working with Bob and his team", said Ravi Kalidindi, CEO at Simple Interact. "Their commitment to better patient experience and the need for efficiency across multiple business lines is an ideal fit for what we do. We continue to learn from our clients and enhance our solution to address complex business needs. These deep client partnerships allow us to provide solutions which are unparalleled in the industry."
About Peoria Ear, Nose & Throat Group
Peoria Ear, Nose & Throat Group includes specialty healthcare services for Otolaryngology (Ear, Nose & Throat), Audiology, Facial Plastic Surgery, and Balance Therapy (at our FYZICAL Therapy & Balance Center). We have a team of experts, including physicians and clinicians who are dedicated to providing you with the highest quality of care. You'll find that all of our physicians are board-certified, and our clinicians have extensive training and meet all of the highest educational standards.
https://www.peoriaearnosethroat.com
About Simple Interact
Simple Interact is a cloud-based front office automation solution which helps healthcare providers acquire and retain more patients, while also automating repetitive tasks to efficiently service a high patient load. We address front office concerns such as: Online Reputation, HIPAA Compliant Patient Intake Forms, Effective Marketing of ancillary services, and Patient Engagement including Automated Reminders. Our motto: More Patients. Less Paperwork.
http://www.simpleinteract.com