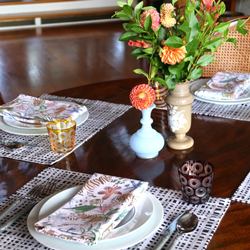 "Whether you're renting a second-floor walk up or putting down roots in a home in the 'burbs, we want you to love where you live," says Banta.
NEW YORK (PRWEB) May 15, 2020
The direct to consumer home brand, Pepper, has disrupted the textile industry by expanding its existing inventory with monthly launches and giving back during the COVID-19 crisis with a new face mask line. In addition to buying personal masks, consumers can choose to donate a mask to healthcare workers on the front lines. Their design team has worked closely with manufacturing partners to develop and produce cloth masks for medical professionals who have expressed their need for these goods. As a small business, hungry to help during the pandemic, co-founders Erin Banta and Kelsey Brown knew they could only afford to donate a few masks, so they called on consumers for support. To date, they have raised more than $35K, donating about 5,000 masks and look forward to having an even bigger impact.
While giving back, their thirst for success and passion for design haven't faded. With an evolving collection prints, pillows, placemats, napkins, curtains, wallpaper, fabric-by-the-yard and new customization features, Pepper continues to deliver an affordable and accessible alternative to a previously exclusive industry. By mid-June consumers will have access to new custom tablecloths and 4 new patterns. Additionally, buyers will be able to customize pillows by choosing a size, pattern and finish. Pepper also plans to offer two new patterns in mid-July.
"As consumers, we have high standards for design and were shocked when the textile pieces we loved were inaccessible to us," says Erin Banta, Co-Founder and CEO. "We quickly discovered that customers like us—who are design conscious but don't have an unlimited decorating budget or the luxury of working with an interior designer—often don't know where to begin when it comes to styling and sourcing textiles."
Banta and Kelsey Brown, co-founder and COO, are using their expertise in retail and engineering to find solutions for the textile industry's exclusivity, long lead times, inaccessible prices and "to the trade" restrictions. "By bringing our production into the United States, we've streamlined our supply chain and developed an on-demand inventory model," Brown explains. "This has allowed us to reduce waste and dramatically decrease lead times for both our custom and standard products." These changes have also allowed the company to add various customization features — such as the custom length curtains, which have dramatically enhanced the customer experience. Their business formula is also praised by consumers who want a speedy turnaround. Pepper ships custom orders within 10 days of ordering.
By using 100% natural cotton as well as recent advancements in digital printing, Pepper is able to offer high-quality textiles minus the markup. For example, a throw pillow at Pepper cost $68, while typical luxury retailers may charge a few hundred dollars for a similar piece. With a modern twist on traditional decor, Pepper's lines offer versatile textiles that will cater to a range of styles.
"Whether you're renting a second-floor walk up or putting down roots in a home in the 'burbs, we want you to love where you live," says Banta. "We're showing customers that with the right patterns and products, it's easy to curate a space that speaks to their individual style."
While stuck at home, now may actually be the perfect time to make those wanted, or needed, changes to your space. You can shop the entire home collection, masks and make donations by visiting the Pepper site.