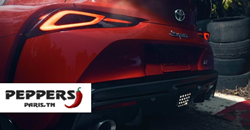 PARIS, Tenn. (PRWEB) September 27, 2019
The reincarnation of the legendary Toyota Supra has stirred a lot of excitement throughout the automotive industry. Racing enthusiasts and sports car lovers alike can agree the 2020 GR Supra brings back some great memories while also inspiring confidence in the future of on-road performance. In an effort to inform car shoppers about the features and capabilities of the 2020 Toyota GR Supra, the team at Peppers Automotive has put together a detailed research page on the new model.
The 2020 Toyota GR Supra research page can be found on the Peppers Automotive website at http://www.clickpeppers.com. Readers can get information about the performance capabilities of the GR Supra, which is equipped with a 3.0-liter Turbo engine that can deliver 335 horsepower as well as rear-wheel drive and an adaptive variable suspension.
Part of bringing back the Toyota Supra is introducing up-to-date technology features. Interested individuals can learn about those on the Peppers Automotive page as well. Available technology elements include Apple CarPlay integration, a Head-Up Display and Qi-compatible wireless charging, among many others.
For additional information about the 2020 Toyota GR Supra and its upcoming availability in Paris, interested parties can contact the team at Peppers Automotive by calling 731-642-5661 or visiting the dealership location at 2400 East Wood Street in Paris.