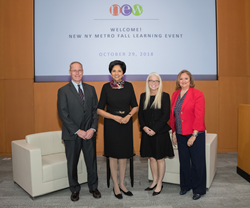 "Indra's contributions to the retail and consumer goods industry cannot be overstated. But, just as great, have been her contributions to gender equality in the workplace."
CHICAGO (PRWEB) November 01, 2018
PepsiCo Inc. Chairman Indra K. Nooyi was recognized for her career-long commitment to women's leadership and gender equality with the Network of Executive Women's William J. Grize Award, Oct. 29, 2018, in Purchase, N.Y.
The William J. Grize Award is named for the late president and CEO of Stop & Shop, an early champion of gender diversity. Since 2011, the William J. Grize Award has honored industry leaders who have demonstrated "an enduring commitment to the advancement of women and to creating a diverse and inclusive workplace."
"Indra's contributions to the retail and consumer goods industry cannot be overstated. But, just as great, have been her contributions to gender equality in the workplace," said NEW President and CEO Sarah Alter, who presented the award with Stop & Shop President Mark McGowan.
"Under Indra's leadership, PepsiCo has increased the number of women leaders through recruiting and development initiatives," McGowan said. "Her outspoken advocacy, enduring commitment to gender diversity and inclusion, and status-quo-busting efforts have helped advance women here and around the world."
Nooyi, who served as CEO of PepsiCo Inc. for 12 years before stepping down Oct. 3, was the chief architect of Performance with Purpose, PepsiCo's promise to do what's right for the business by doing what's right for people and the planet. She serves as co-chair of the NEW Future Fund, a $5 million fund-raising campaign to support NEW's investments in learning programs, technology, research and insights aimed at achieving gender equality in retail, consumer goods, financial services and technology.
"Indra's journey, her achievements and her leadership are inspiring examples of what's possible," noted Karen Meleta, vice president of consumer and corporate communications for Wakefern Food Corp., who facilitated an hour-long discussion and Q&A with Nooyi prior to the award presentation at the NEW New York Metro learning event.
Prior recipients of the William J. Grize Award are:
2011

Linda Dillman, Hewlett-Packard, honored for her work at Walmart Inc.
Jeri Dunn of Bacardi, honored for her work at Tyson Foods
Tom Greco, PepsiCo Inc.
Don Knauss, The Clorox Company
Jeff Noddle, retired CEO of SUPERVALU
Kay Palmer, J.B. Hunt
Judy Spires, Kings Super Markets
James White, Jamba Juice Company, honored for his work at Safeway
2012
2013
Regenia Stein, Ingenuity Consulting, honored for her work at Kraft Foods
2014