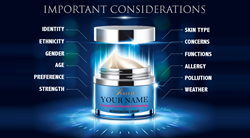 SERIOUSLY? Beauty Industry Has Given Up on Innovation. One Size Fits All Model the Best We Can Do for 2018? PERBETE Saw a Way to Make Difference. Incorporating Information Technology into Their Skin Care.
BOSTON (PRWEB) October 10, 2018
How a game changer made the traditional skin care industry an ancient relic.
October 10, 2018, marks the launch of PERBETE Skincare's personalized beauty product line, "The Personalized Skincare." This was displayed at the Beauty Pageant held in Boston. The products are now readily available at KICKSTARTER, and also pre-order can be made on PERBETE.com as at 2019.
Even in recent times, a lot of people still don't get that maximum satisfaction with the different kind of brands available. Consumers now want products that are tailored to their own skin and don't force their skin to adapt. Notwithstanding, some consumers end up paying outrageous prices on the wrong products and end up getting frustrating results.
In the midst of these flaws, PERBETE saw a way. PERBETE Founder JAEMIN LEE said: "is there anything we can do to innovate one size fit all model in skincare?"
As a medical researcher for cancer and carcinoma pharmaceuticals, getting involved in the cosmetic industry was far-fetched. But after Jaemin's close friend was diagnosed with skin cancer, it became hard for her to get the appropriate skin care product to suit her skin, and the one that did was outright expensive. Thus, Jaemin felt the desire and need to delve into that field.
PERBETE MISSION
Making personalized skincare treatment relatively available and affordable to every woman out there with the latest 21st-century technology is the ultimate goal of PERBETE Founder, JAEMIN LEE.
Innovation &Technology
With our 21st century technology of intertwined information technology into skincare treatment, the best solution and cure to your skin problems become very easy to diagnose as it monitors and checkup your skin condition every three months or even less.
Personalized beauty-system selects specific ingredients and formulates customized skin care products based on your information "Identity, Skin type, Ethnicity, Concerns, Gender, Functions, Age, Allergy, Preference, Strength, Pollution and Weather".
PERBETE's use of technology in beauty treatments: PERBETE gives you more effective and faster results than traditional skincare products by selecting each ingredient according to your needs.
PERBETE's tech scheme monitors possible skin changes every 3 months or earlier to ensure that customized formulas are adjusted to fit your skin and slow down the aging process.
"We listen to every word that you say!"
Features/Functions
Personalized Beauty Technology applied
Customized formulation to specific skin concerns
Lifetime Skin aging tracking service
NON-TOXIC & CRUELTY-FREE INGREDIENTS
At PERBETE, we care about each consumers' health and only use Toxin-free Ingredients. We do not test on animal.
Starting from Oct, 10th 2018, PERBETE Corporate Team will announce to the public about their product launching on Kickstarter, bringing the first innovative Personalized skincare with the aging tracking system to the world at large. A single bottle is set to retail from $159- $179, but launching special deal only cost from $79-$89 per item if you pre-order from Kickstarter.
Media Kit for Influencer: https://perbete.com/media