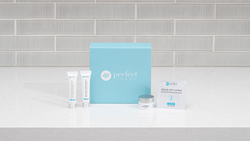 RENO, Nev. (PRWEB) February 23, 2021
Perfect Image -- the pioneer in advanced, safe to use at-home chemical peels -- is thrilled to announce the official launch of its latest subscription-style peel program: the Trial Plan. This first of its kind system gives consumers access to an online platform and virtual professional which identifies peel treatment regimens, aligned to their skin's personal needs and concerns -- in a telehealth fashion. Users receive monthly kits, containing a multitude of products and have virtual access to trained professionals (for the purpose of real-time questions, consultations and regimen adjustments) all at the low cost of $29.95. The Trial Plan contains 5 individual peel pads, 1 pre-peel treatment cleanser, 1 post-peel treatment repair cream + 1 facial skincare treatment and will be available North America-wide as of February 23, 2021.
HOW IT WORKS
Step 1: Consumers create a profile on the Perfect Image website and complete a proprietary quiz that identifies product combinations best suited to their skin's needs and concerns. They will then be taken to a results screen and will be able to select a pre-peel product (a cleanser), peel product, post-peel product (moisturizer) and a facial product (mask or treatment); options are tiered by strength and acid concentration-level.
Step 2: Once a regimen is selected and confirmed, recipients will immediately be connected with an in-house licensed professional (via a real-time messaging portal), who will provide one-to-one consultations, analyze their skin, answer questions and talk them through the peel process. Your personal peel concierge will help you track your progress and results throughout the month.
Step 3: Upon the end of the month, consumers' partnered professional will review their results, and discuss their experience and will either tweak their kit to include a new mix of product options or set-in place their perfect peel system, which will then be sent on a monthly basis. Individuals will still have ongoing-access to professionals, even when their regimen is perfected (and regimens can be changed or updated with the professional at any time).
"When I first launched Perfect Image over a decade ago, it was my mission to make easy-to-use, professional-grade at-home chemical peels accessible to the masses," says David Petrillo, founder and CEO. "Our range of products are made with the perfect balances of natural botanical extracts and nourishing antioxidants and ingredients. While we provide effective and easy-to-use products, we were determined to simplify the user experience even more -- with this we're proud to release the official Perfect Image Trial plan -- offering folks the tools and access to professionals they need to take control of their skin concerns and be free to be their most confident selves."
The Trial Plan comes at a time where many are unable to visit their facialists and dermatologists; it provides consumers not only access to professional treatments, but also to professionals to instill confidence through the process, which will ultimately deliver confidence post-process with noticeable results and nourished, healthy skin.
ABOUT PERFECT IMAGE
Founded in 2007, Perfect Image brings the spa experience to your home by providing safe, affordable, professional-strength peel products. By using powerful ingredients in specially formulated cleansers, moisturizers and facial treatments, Perfect Image gives you the power, tools, and professional assistance to guide you on your journey to a healthier, more confident you. No matter your skincare concern Perfect Image can help you find the right products for your unique skin needs and goals.