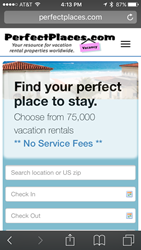 EMERYVILLE, CA (PRWEB) May 03, 2016
RedAwning.com, a leading hotel-style booking website for vacation homes, is pleased to announce that it has given its newly acquired brand PerfectPlaces.com, a fresh, new design including improved search and mobile-friendly features that dramatically improve the user experience for customers seeking to book vacation rentals, while at the same time bucking the trend of adding traveler or service fees to the booking experience.
While many vacation rental websites have recently begun charging a fee of up to 15% on top of every reservation, PerfectPlaces.com has pledged a NO FEE guarantee on every property. Travelers will not be charged add-on fees for shopping on PerfectPlaces.com and every guest will as a result save up to 15% on each booking .
In addition, customers on PerfectPlaces.com will now be able to search vacation homes, condos and apartments more easily on all their devices by using 'filter by map' and then choose to view results in a list or a large picture format. They will also be able to view all images for each property within the search results without having to drill down or view properties individually.
"If you're looking for the best vacation rentals at the best prices, the 'no fee guarantee' makes PerfectPlaces.com the best place to shop for your next vacation home," said, Rick Haggart, Chief Business Development Officer of RedAwning and Founder of PerfectPlaces. "Add to this, the exciting new design and user-improvements and you have a booking experience that's simpler and more fun to use."
PerfectPlaces.com features over 75,000 properties worldwide and has been in the vacation rental business for over twenty years, serving tens of millions of visitors to its website. It offers instant, real-time bookings with no additional steps for consumers, property owners and managers.
"This next phase of PerfectPlaces.com has become all the more exciting now that we have a more unique offering in the marketplace with no added guest service fees," added Tim Choate, CEO of RedAwning.com. "Plus, most of the properties included under the RedAwning umbrella are now included in PerfectPlaces too, giving consumers even more selection."
ABOUT REDAWNING
RedAwning.com, Inc. is the leader in hotel-style reservations for the vacation rental industry and the only one-stop complete reservations and channel management solution for property managers. With one integration, one connection, one contract, and one commission, RedAwning offers property managers the fastest, most seamless connection to the most extensive marketing network in the industry, including Booking.com and other Priceline Group websites, Flipkey, HomeAway, Priceline, TripAdvisor, VRBO, and many more websites. It also provides a multitude of 100% inclusive services to managers such as key level exposure, 24x7 lead response, customer service and guest services support and complete reservations and payments management. In May 2015, RedAwning acquired PerfectPlaces.com and TravelProRentals.com, a complete vacation rental booking platform for travel professionals, further expanding its stable of exclusive marketing opportunities for property managers.
ABOUT PERFECT PLACES
Founded in 1996, PerfectPlaces.com was one of the first vacation rental websites. It features over 75,000 vacation rental properties in 103 countries and 6,600 cities and also operates a number of other vacation rental websites including LakeRentals.com, CoastRentals.com, MountainSkiRentals.com, and forGetaway.com.