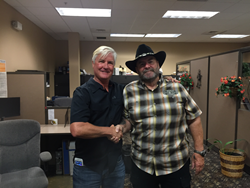 I truly appreciate George's guidance, understanding, and patience throughout the process. Look no further than George C. Chaconas and Performance Brokerage Services when you are considering selling or buying a Harley-Davidson dealership. - Armand Pinard
Irvine, California (PRWEB) August 13, 2015
Considering retirement in 2009, Armand and Irene Pinard had been in discussions with George C. Chaconas of Performance Brokerage Services until the market collapsed and they took the dealership off the market. "George continued to guide me over the past six years since I couldn't commit to retiring just yet. I loved being a Harley-Davidson dealer, it was in my blood. I had been riding for decades and owned Black Widow Harley-Davidson with my family for 11 years," shared Armand Pinard. On multiple occasions, Armand considered throwing in the towel on the negotiations with the buyer, but he stated that "George was a pro at keeping me on task and focused on the end game – my retirement." George, the representative for this transaction, commented, "It is always an emotional process to sell a family business, and I found it rewarding to help the Pinards move on to the next stage of their lives and enjoy their retirement." Following the sale of his dealership, Armand shared his experiences in working with George, "With his persistence, industry knowledge and expertise at deal structuring, George found the perfect buyer for my store. I truly appreciate George's guidance, understanding, and patience throughout the process. Look no further than George C. Chaconas and Performance Brokerage Services when you are considering selling or buying a Harley-Davidson dealership."
Although Bert King is a first-time Harley-Davidson buyer, he has a long history in the automobile industry. For 13 years, Bert was an Executive Manager/Dealership Partner working for the former Larry Van Tuyl Automotive Group, now Berkshire Hathaway Automotive Group. Subsequently, he was the Executive Manager and Partner of Orr Nissan in Corinth, Texas for four years prior to its sale in 2014. Bert shared, "Since selling my car dealership in 2014, I have been interested in becoming a Harley-Davidson dealer. George Chaconas shared with me a few dealership opportunities, ultimately purchasing Black Widow Harley-Davidson in Port Charlotte, FL. The dealership was a great fit for me. Having family in Florida, I could relocate my wife and family there." Following the sale of Black Widow Harley-Davidson, George mentioned, "It was also exciting to assist Bert King realize his dream of owning a Harley-Davidson dealership. Along with his partner, Willy Sullivan, Bert plans to grow the dealership and attract new buyers with a fresh perspective." Bert's partner, Willy Sullivan, is an experienced Harley-Davidson dealership owner, operating American Eagle Harley-Davidson in Corinth, Texas. Bert King concluded, "With George's help in managing the deal and the seller's expectations, we were able to reach a closing. I appreciate George's efforts and experience in holding the deal together during some very difficult obstacles."
Bert's plans for the dealership include Tattoo Tuesdays, Ladies Night, Live Entertainment every Saturday with free food and beer, and the addition of the Rider's Academy. Bert has chosen to keep the name Black Widow Harley-Davidson to benefit from the terrific goodwill that the dealership enjoys after 11 years under the Pinard's ownership. "The excellent reputation the Pinards forged over the past 11 years will continue with the new owner as Bert continues their legacy. I wish the Pinards a relaxing retirement and Bert King success in his new endeavor," concluded George C. Chaconas, the head of the National Harley-Davidson & Powersports Division for Performance Brokerage Services.
Black Widow Harley-Davidson will remain at its current location at 2224 El Jobean Road in Port Charlotte, Florida.
About Performance Brokerage Services
Performance Brokerage Services, an auto dealership broker, specializes in professional intermediary services to buyers and sellers of automotive, Harley-Davidson and Powersports dealerships.
The company offers a different approach to the automotive, Harley-Davidson and Powersports industries by providing complimentary dealership assessments, no upfront fees, no reimbursement of costs and is paid a success fee only. Performance Brokerage Services gets paid only after the client gets paid.
With over 24 years of experience, the company utilizes an extensive network of industry related accountants, attorneys, hundreds of registered buyers and enjoys longstanding relationships with most of the auto manufacturers and the Harley-Davidson Motor Company. The intermediaries at Performance Brokerage Services have been involved in well over 400 transactions. Pledging loyal and unwavering representation, confidentiality is vigilantly protected during the selling process and after the transaction closes.
With corporate offices in Irvine, California located at 7545 Irvine Center Drive, four satellite offices in Utah, Florida, Texas and New Jersey, and a dedicated Harley-Davidson and Powersports division, Performance Brokerage Services provides its clients national exposure with local representation. For more information about the services offered by Performance Brokerage Services, visit https://performancebrokerageservices.com.