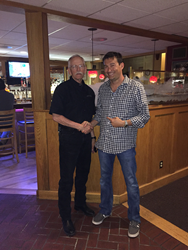 George and Performance Brokerage Services fulfilled our family's dream of becoming a Harley-Davidson dealer and for that, we are forever grateful.
Irvine, California (PRWEB) July 26, 2017
Performance Brokerage Services, a new car and Harley-Davidson dealership broker is pleased to announce the sale of Durango Harley-Davidson in Durango, Colorado from Jeff and JoDell Murray to Trevor Bird, a first-time Harley-Davidson dealership owner. Durango Harley-Davidson was established in 2002 in Durango, Colorado by Jeff and his wife, JoDell Murray, and Herb and Caroline Shipp. In 2012, they opened the Alternate Retail Outlet in Silverton, Colorado named the "World's Highest Harley Store," providing a wide variety of Harley-Davidson merchandise and apparel. After 15 years of ownership, Jeff decided that it was time to retire from the Harley-Davidson business. Following the sale of his dealership, Jeff Murray commented, "Selling your lifestyle is difficult, and finding the right buyer, even more so. George Chaconas from Performance Brokerage Services stayed on it until we achieved both goals. Many thanks."
Trevor Bird's lifelong dream of owning a Harley-Davidson dealership became a reality in June 2017, when he and his wife acquired Durango Harley-Davidson. Trevor shared, "I have worked in the Harley-Davidson dealer network for fifteen years as a dealership employee and had always dreamed of one day owning my own dealership. George Chaconas' commitment, dedication and persistence is what made the deal happen. George and Performance Brokerage Services fulfilled our family's dream of becoming a Harley-Davidson dealer and for that, we are forever grateful."
With easy access to the Million Dollar Highway, voted the #4 best motorcycle road in the United States by AMA and a top-10 scenic ride by AAA, Durango Harley-Davidson is a destination for all Harley-Davidson riders and enthusiasts. Durango Harley-Davidson will continue to operate under the same name and will remain at its current location at 750 South Camino Del Rio in Durango, Colorado.
George C. Chaconas, the exclusive agent for this transaction and the head of the National Harley-Davidson and Powersports Division for Performance Brokerage Services commented, "What a joy it brings me to have assisted Jeff and JoDell Murray with reaching their hard earned retirement, while maximizing the value of their assets, and to have helped Trevor fulfill his lifelong dream of becoming a Harley-Davidson dealer. It is now Trevor's turn at the helm and I wish him tremendous success. Thank you, Jeff and JoDell for the opportunity to have represented you."
About Performance Brokerage Services
Performance Brokerage Services, an auto dealership broker, specializes in professional intermediary services to buyers and sellers of automotive, Harley-Davidson and Powersports dealerships.
The company offers a different approach to the automotive, Harley-Davidson and Powersports industries by providing complimentary dealership assessments, no upfront fees, no reimbursement of costs and is paid a success fee only. Performance Brokerage Services gets paid only after the client gets paid.
With over 25 years of experience, the company utilizes an extensive network of industry related accountants, attorneys, hundreds of registered buyers and enjoys longstanding relationships with most of the auto manufacturers and the Harley-Davidson Motor Company. The intermediaries at Performance Brokerage Services have been involved in well over 600 transactions. Pledging loyal and unwavering representation, confidentiality is vigilantly protected during the selling process and after the transaction closes.
With corporate offices in Irvine, California, six regional offices in Utah, Florida, Texas, New Jersey, Alberta and Ontario, and a dedicated Harley-Davidson and Powersports Division, Performance Brokerage Services provides its clients national exposure with local representation. For more information about the services offered by Performance Brokerage Services, visit https://performancebrokerageservices.com.