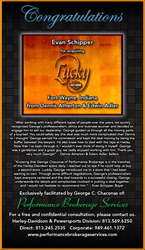 Now that I've been through it, I wouldn't ever think of doing it myself. - Edwin Adler
Irvine, California (PRWEB) October 18, 2016
Dennis Atherton and Edwin Adler, owners and operators of Lucky Harley-Davidson in Fort Wayne, Indiana made the emotion decision to sell their dealership. To assist them with accomplishing their goals, they contact George C. Chaconas, a Harley-Davidson dealership broker from Performance Brokerage Services, Inc. "After working with many different types of people over the years, we quickly recognized George's professionalism, ethics and business acumen and decided to engage him to sell our dealership," shared Edwin Adler. He continued, "You could safely say this deal was much more complicated than Dennis or I thought. Now that I've been through it, I wouldn't ever think of doing it myself." Dennis Atherton and Edwin Adler will continue to operate ABC Harley-Davidson in Waterford, Michigan.
Evan Schipper owns and operates Bluegrass Harley-Davidson in Louisville, Kentucky, and was in the market to purchase a second dealership. "Knowing that George Chaconas of Performance Brokerage is in the trenches of the Harley-Davidson space daily, I reached out to see if he could help us buy a second store," commented Evan, "and luckily, George introduced me to a store that I had been wanting to own." Evan shared that through some difficult negotiations, George's professionalism kept everyone centered and the deal towards a successful closing. Evan Schipper became the proud owner of Lucky Harley-Davidson, which was renamed Harley-Davidson of Fort Wayne.
The dealership will continue to operate in its existing location at 6315 Illinois Road in Fort Wayne, Indian 46804.
George C. Chaconas, the exclusive agent for this transaction and the head of the National Harley-Davidson and Powersports Division for Performance Brokerage Services commented, "It was with great pleasure to have assisted such gentlemen in Dennis Atherton and Edwin Adler with the sale of their Harley-Davidson dealership. I wish Evan Schipper tremendous success with his new acquisition."
About Performance Brokerage Services
Performance Brokerage Services, an auto dealership broker, specializes in professional intermediary services to buyers and sellers of automotive, Harley-Davidson and Powersports dealerships.
The company offers a different approach to the automotive, Harley-Davidson and Powersports industries by providing complimentary dealership assessments, no upfront fees, no reimbursement of costs and is paid a success fee only. Performance Brokerage Services gets paid only after the client gets paid.
With over 24 years of experience, the company utilizes an extensive network of industry related accountants, attorneys, hundreds of registered buyers and enjoys longstanding relationships with most of the auto manufacturers and the Harley-Davidson Motor Company. The intermediaries at Performance Brokerage Services have been involved in well over 500 transactions. Pledging loyal and unwavering representation, confidentiality is vigilantly protected during the selling process and after the transaction closes.
With corporate offices in Irvine, California located at 7545 Irvine Center Drive, four satellite offices in Utah, Florida, Texas and New Jersey, and a dedicated Harley-Davidson and Powersports Division, Performance Brokerage Services provides its clients national exposure with local representation. For more information about the services offered by Performance Brokerage Services, visit https://performancebrokerageservices.com.